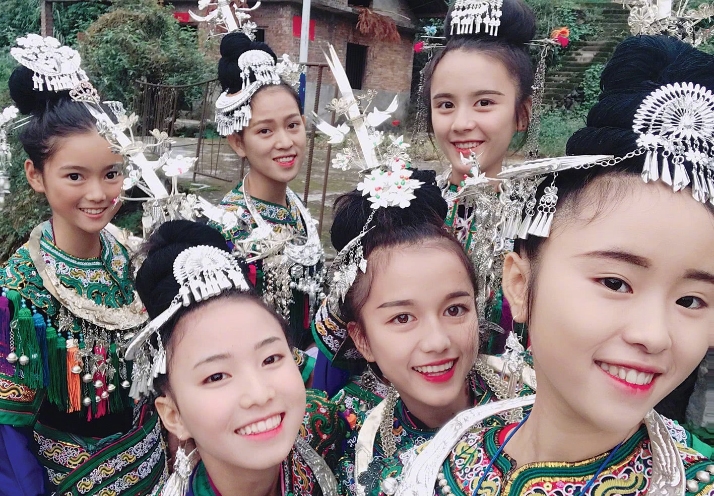 The "fairies" in Wu's video (COURTESY PHOTO)
Driving from the urban area of Liping County in southwest China's Guizhou Province along the rugged mountainous road for four hours, which is actually only 100 km, one can see the small, primitive Gaibao Village, mainly inhabited by the Dong ethnic minority. Not so long ago, it was an underdeveloped and isolated community as the surrounding high mountains seriously hampered its economic development.
Despite the drawbacks, the village has some unique assets: the magnificent natural landscape and the rich traditional culture of the Dong ethnic minority. In fact, Liping County is widely considered to be the cradle of the Dong culture.
The idea of using digital technologies to put an end to Gaibao's geographical and economic isolation was first put forward by Wu Yusheng, First Secretary of Gaibao Village Branch of the Communist Party of China(CPC), who is only 32 years old.
On February 15, 2018, the eve of the Spring Festival, Wu, who worked as a civil servant in Liping County Government at that time, was designated as the first secretary of the CPC Gaibao Village Branch, a position with the responsibility of lifting the village out of poverty and finding ways to make it prosperous.
"I thought about my work a lot. After the Spring Festival holiday season, most young villagers would have gone to work in the cities. I also served as the first secretary of the neighboring village in 2013 and 2014, and I knew that young people are the key force to lift a village out of poverty," Wu told ChinAfrica.
Wu took on the position and immediately went to Gaibao Village just before the Spring Festival. He had in-depth discussions with local young people. He said he was deeply impressed by local young people's enthusiasm in building their home village. "Young people know about their village and they also know more about the outside world. So, they are the key part in the work of lifting the village out of poverty," said Wu.
A tough start
Wu soon discovered that in addition to its beautiful natural landscape, Gaibao was a real treasure chest of Dong culture. In particular, the village had managed to preserve the pipa song, a folk art of the Dong people.
It did not take long for Wu to come up with the idea of using online short video platforms to promote the village's culture, as he had some personal experience in the field: During his university studies, he used to shoot and publish his own short videos online.
"I proposed a plan to raise 200,000 yuan (about $29,000) in the village to finance the shooting of videos. Through this new medium, we can do online promotion of our village and sell our products online. If the unique cultural resources of Gaibao Village are well used and promoted, they can be transformed into economic benefits and enable villagers to lift themselves out of poverty and get rich," he said.
Wu presented his ideas to other members of Gaibao Village Committee, who turned out to be hard to be convinced. Indeed, the committee had many doubts: Smartphones were not yet widely used in the village and many villagers had never heard of online short videos. In addition, although the new medium was mostly low cost, making short videos still needed some start-up funds to buy cameras and properties.
Due to these doubts, Wu's proposal was swiftly rejected. However, after talking to the village chief, Wu decided to borrow 50,000 yuan ($7,300) from the village committee and pledged to the villagers that he would personally assume all losses.
Everything was ready for shooting, but things didn't go quite as planned. "I shot videos every day, from morning to night, on Dong culture and local specialties, but there were very few fans," he recalled.
After one month, he only managed to gain 700 fans. With the start-up funds soon to be exhausted, he had nothing to show for his fight against poverty. "This terrible start made me think about giving up," said Wu.
Turning point
One night, as Wu was walking around the village, he heard the echoes of a melodious song. The next day, he met with some village elders, who told him a local legend.
A long time ago, seven fairies came down to the earth. Upon landing, they found that the Dong people were diligent, but could not sing. They then offered the Dong people their most precious gift: their magical fairy song. Since then, the Dong people have been known for their beautiful singing.
This legend gave Wu a new idea. He decided to recruit a group of seven girls - representing the seven fairies - and feature them in his videos. It was not easy to find and convince them, especially as many girls in the village were too shy to be in front of the camera, and many of them worked or studied in
cities. After much effort, Wu finally brought together a small troupe of seven Dong girls, who became the stars of his videos on Kuaishou, a short video application.
"I never thought it would be possible, but the first episode got more than 800,000 views. In less than a month, we had tens of thousands of fans," said Wu.
Today, the channel has 600,000 fans, including 250,000 on Kuaishou alone. "Fan donations can exceed 1,000 yuan ($145) a day. For a poor and mountainous region, it's really incredible," he said.
In addition, the short videos also greatly promote local Dong ethnic products and ornaments. According to Wu, during their live broadcasts, many Internet users are introduced to traditional Dong costumes, which they then buy online. In another video, the "seven Dong fairies" introduced the process of making salted fish - a local delicacy - generating 6,000 ($872) in sales the very same day. Previously, villagers had to bring the fish to the market, where it was not always possible to sell them.
"Now, we are breaking through our geographical isolation and our traditional and agricultural products are being sold all over the country. In 2018, our sales exceeded 340,000 yuan ($49,000), thanks to short video platforms. The village has managed to lift itself out of poverty as we had planned," said Wu.
According to data provided by Kuaishou, more than 16 million people gained an income from the platform in 2018, including more than 3.4 million people living in counties classified as poor by China's Central Government. In 2018, Kuaishou launched a new project to boost China's rural economy, providing tools and resources to 100 village leaders chosen across the country, including Wu. Moreover, in 2019, Kuaishou set up its own poverty reduction office to recruit video hosts in poverty-stricken areas.
"Victory is not assured yet, but we are not far away. We will not give up and our hope will become a reality," said Wu.
(Comments to lijing@chinafrica.cn)