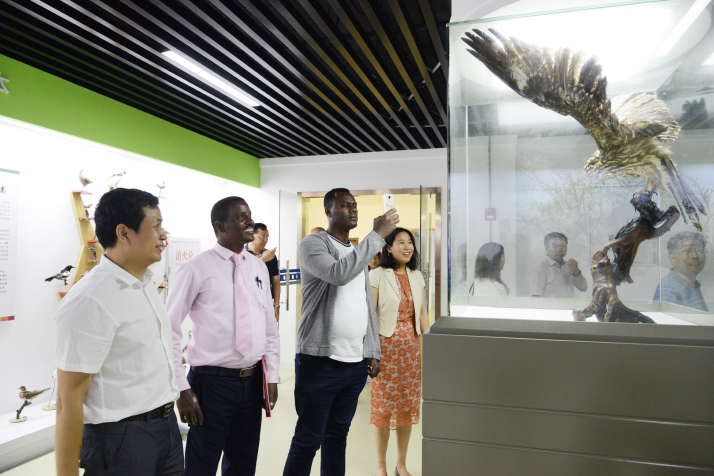 Representatives from Alage ATVET College visit the specimen lab in HBEP (COURTESY PHOTO)
A new chapter has begun for Sino-Ethiopian cooperation in the field of agricultural vocational training. On July 25, Alage Agricultural Technical Vocational Education and Training (ATVET) College of Ethiopia signed a memorandum of understanding (MoU) with Hunan Biological and Electromechanical Polytechnic (HBEP) on academic partnership in Hunan Province. According to the MoU, the two colleges seek to strengthen their teaching capacity through increasing instructor exchanges, developing new holistic and technical training programs and pooling academic resources, among others.
Chala Feyera, Academic Vice Dean at Alage ATVET College, took part in the signing ceremony. He said Ethiopia-China coope­ration has reached a new height because of the collaboration between the two colleges.
A valuable experience
Exchanges of teaching personnel in the field of agricultural training between China and Ethiopia date back to the year 2000, when Ethiopia's then Prime Minister Meles Zenawi requested the Chinese Government to dispatch agricultural experts to work in Ethiopian vocational training institutions. The two countries then signed an agreement in 2001. Soon after that, the first batch of 10 Chinese teachers was sent to Ethiopia. Over the last 19 years, a total of 465 Chinese instructors have worked in Ethiopia, training nearly 60,000 local teachers, agricultural technicians and students. Through this cooperation channel, more than 70 new agricultural technologies have been introduced to Ethiopia, 13 manuals have been compiled and 56 training courses have been delivered.
Specializing in providing middle-level agricultural training and education, Alage ATVET College aims to build well-equipped workforce to help disseminate and diffuse agricultural techniques throughout the country. Reporting to the Ethiopian Ministry of Agriculture, it is one of the largest ATVET institutions in the country. Since 2003, it has trained more than 28,000 agricultural technicians, representing 32 percent of the total number of ATVET graduates across the country.
Having hosted Chinese experts from the very first days of this cooperation initiative, Alage ATVET College has now become one of the main beneficiaries. "Over the past 19 years, China's contribution to improving ATVET in Ethiopia in general and Alage ATVET College in particular has been enormous," said Chala.
Between 2012 and 2019, a total of 71 Chinese instructors were dispatched to the college. In addition to providing theoretical courses and hands-on training, they also helped diffuse new technologies among local teachers, write textbooks, conduct field surveys and upgrade demonstration sites and laboratories.
According to Chala, apart from their usual missions, Chinese instructors have also set up a vegetable garden near their residence. Thanks to their close interactions with local colleagues, everyone is able to see and follow their example. "The Chinese instructors came to Ethiopia with valuable assets: know-how, experiences and the willingness to bring people from our two countries closer, to name just a few," said Chala.
The academic vice dean is therefore very happy with the cooperation project so far. "In general, the program can be considered a model, because it has succeeded in introducing new technologies and methodologies, and has been beneficial to most professionals, organizations and the people of our two countries," he said.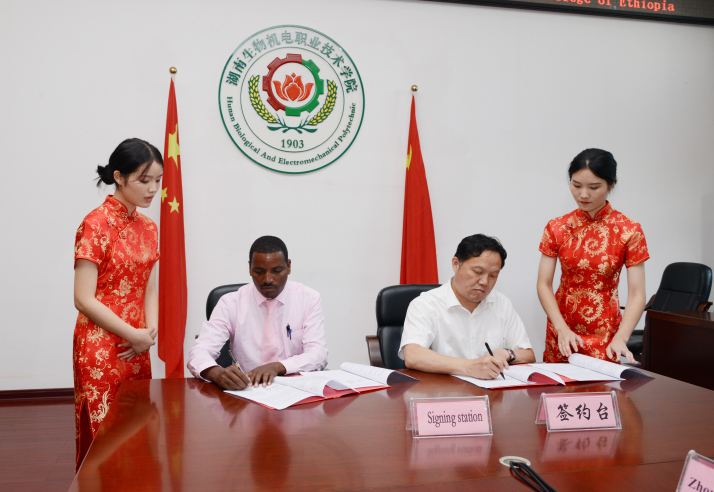 Chala Feyera, Academic Vice Dean at Alage, ATVET College, and Shi Mingqing, president of HBEP, sign the MoU (COURTESY PHOTO)
A new page
Building on this rich experience, Alage ATVET College is now trying to tap further into the expertise of its Chinese counterparts engaged in similar missions. To this end, the college informed the Chinese Government of its willingness to partner with a Chinese college specializing in ATVET. "Our goal is to strengthen our hands-on training capacity and increase agricultural technology transfer to better empower small farmers," said Chala.
This willingness became a reality in late July, when Alage ATVET College signed the MoU with HBEP for the establishment of a joint cooperation project. HBEP was established more than a century ago as an educational institution under the Hunan Provincial Government. With seven production-focused training bases and 400 internship sites, it pays particular attention to hands-on teaching. Students are encouraged to put into practice the theories they learn in class to better consolidate their skills.
In recent years, the polytechnic has accelerated the pace of its cooperation with foreign partners. In October 2018, for example, it concluded an agreement with Liberia's Ministry of Agriculture for the application and dissemination of agricultural technologies. Since 2017, HBEP has been organizing and sending instructors to Zimbabwe and East Timor to take part in the local development of rice and aquaculture production. As of now, the college has developed six technical standards and trained 87 technicians in the two countries.
HBEP is keen on its cooperation with Alage ATVET College. "This represents a new step in our efforts to collaborate with international partners. This project will serve as a showcase for us to build friendships with other African countries," said Tan Zaihong, HBEP Vice President.
Tan plans to carry out a preliminary survey on the educational conditions and levels of Alage ATVET College. With the help of this study, HBEP will be able to establish a precise training plan for teachers there. The standardized education system used at HBEP will also be shared according to the actual needs of its partner. At the same time, a common teaching curriculum will be developed by improving current training and adding new courses that will suit the future needs of Alage ATVET College.
For its part, Alage ATVET College also wishes to strengthen its own capacities in terms of management, agricultural mechanization and small-scale irrigation. Moreover, it is also looking to develop new projects that involve the two establishments in the dissemination of environmentally-friendly agricultural technologies to small farmers.
For now, HBEP will send a delegation to Alage ATVET College during the second half of this year to jointly prepare an action plan and establish a logical framework to implement the MoU in the short term.
(Comments to lixiaoyu@chinafrica.cn)