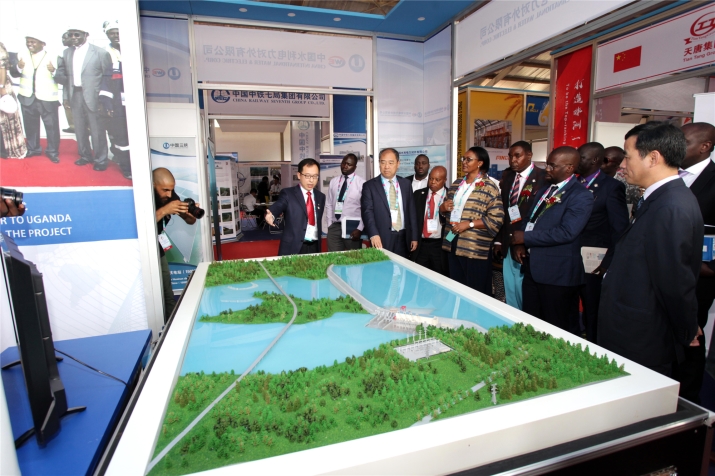 Local visitors at the China International Water and Electric Corp. booth at the 2019 China-Uganda Industrial Capacity Cooperation Exposition in Kampala, Uganda (XINHUA)
Thousands of businesspeople from Uganda and neighboring countries flocked to the recently concluded 2019 China-Uganda Industrial Capacity Cooperation Exposition. Hailed as a big success by both organizers and exhibitors, the expo held in the nation's capital of Kampala from July 23-26 was the first of its kind to take place in Uganda.
This is the third in a series of China-Africa style trade expos, with previous events being held respectively in Kenya and Ethiopia in November and December 2018.
According to the organizers, the expo attracted 43 enterprises from 12 provinces and cities in China. They were in Uganda to explore investment opportunities in a wide range of industries including engineering, machinery, energy, equipment, agricultural processing products and equipment and automobiles. The expo was organized by the China Council for the Promotion of International Trade in collaboration with Uganda Manufacturers Association, Uganda Investment Authority, China-Africa Development Fund and Uganda National Chamber of Commerce, and was managed by CIEC Exhibition Co. Ltd.
Lydia Sun, the company's Project Team Manager, said in an interview that the expo has gone a long way to solidify the relationship between Uganda and China. Sun said, "Hosting the China-Uganda Industrial Cooperation Exposition in Uganda has been a clear demonstration that the partnership between China and Uganda is moving toward a deeper and higher level."
Optimistic outlook
On July 23, the Chinese Ambassador to Uganda Zheng Zhuqiang presided over the opening ceremony, accompanied by the Acting Director General of Uganda Investment Authority Lawrence Byensi and the Head of Uganda National Chamber of Commerce and Industry Olive Kigongo.
Zheng said the expo was important for the two countries and that Uganda has a lot to benefit from China's innovation, technology and equipment. He said that Uganda now ranks third in Africa in receiving foreign direct investments (FDI) from China.
"Chinese companies have gone a long way toward developing Uganda and providing jobs," said Byensi. "In 2018-19, we licensed 87 Chinese projects with planned investments of $1.2 billion and 42,000 planned jobs," he said.
Kigongo shared the optimistic sentiments and at urged Ugandans and Chinese participating in the expo to deepen trade and investment relations between the two countries. She cited the two countries' national flags at each stall as an important symbol of unity.
The colorful stalls displayed a huge range of Chinese products including everything from vehicles, agro-processing equipment and household items to solar-powered engines, electronics and modern medicine.
"As a businessman, I learnt a lot from the expo. I made contact with several Chinese businessmen and manufacturers and I will be following up for possible business opportunities," said Bernard Ojambo, a businessman based in the east Ugandan town of Jinja.
James Kalule, a local farmer who attended the expos to look for a good-quality tractor, said he was impressed by the organization. "The Chinese who were managing the display stands spoke good English, and I was able to source the information I wanted," he said.
Wang Fang, a Chinese exhibitor, said she was impressed by the way Ugandans were eager to know the details of what was being exhibited. "They came in big numbers and most of them wanted to buy products which they could afford," said Wang.
Strategic event
The Economic and Commercial Counselor at the Chinese Embassy in Uganda Zhao Xiufen said the expo was among China's strategies to promote cooperation with Africa.
"This expo is part of the China-Africa Economic and Trade Expo included in the initiatives that Chinese President Xi Jinping announced during the Bejing Summit of the Forum on China-Africa Cooperation (FOCAC) in September 2018," said Zhao.
By all accounts, the main objectives of the expo were achieved, according to Mubaraka Nkutu, Director of Services of the Uganda Manufacturers Association.
"The objectives achieved include introducing China's technology and goods to Ugandans, exploring investment opportunities in Uganda and also identifying future partnerships and joint ventures," said Nkutu.
Uganda Investment Authority official Martin Muhangi advised the Chinese business community to consider Uganda because the country is among the best investment destinations in Africa since it has good climate, minerals and educated workforce. Muhangi said the expo has also helped Uganda indicate to foreign investors the regulatory efficiencies undertaken by the country. He said, "Uganda holds the third position in Africa with an investment portfolio of $250 million."
According to Fredrick Ngobi, State Minister for Cooperatives in the Cabinet of Uganda, China is Uganda's second-largest trading partner. Ngobi called out to Ugandan business people to add value to the goods they export to China, so that the country can earn more in foreign exchange.
"Uganda mainly imports electrical and mechanical appliances, spare parts and clothing from China. On the other hand, we export raw hides and skins and oil seed."
According to figures from Uganda's Bureau of Statistics, within the last 10 years the amount of trade between the two nations has more than quadrupled, from around $230 million in 2008 to almost over $1 billion in 2018.
Providing jobs
The good news is that Chinese companies are already heading for Uganda to set up shops. Ju Weipeng, Acting Country Manager of China Communications Construction Co. Ltd., said that 350 Chinese companies have already established a base in Uganda, providing more than 20,000 jobs to the country and contributing to local development.
During the FOCAC Beijing Summit held last September, President Xi announced that China will launch eight major initiatives together with Africa, draw a blueprint for the development of bilateral relations, and open a grand chapter in China-Africa cooperation in the new era. Since the establishment of diplomatic relations between China and Uganda on October 18, 1962, the economic and trade ties between the two sides have made great progress.
At present, bilateral economic and trade relations are not limited to only trade. Many Chinese companies that have already invested in Uganda are helping promote local economic and social development. Since 2017, investments from China contributed over 40 percent of the total FDI in Uganda, according to records at Uganda's Ministry of Trade, Industry and Cooperatives. Chinese companies have become among the major employers in the country, which has a large population of unemployed youth.
"China is now the second-largest trading partner with Uganda, the largest source of FDI and the biggest infrastructure development partner for Uganda," said Ambassador Zheng, adding that Uganda is now among the top four investment destinations for China in Sub-Saharan Africa. Uganda's President Yoweri Museveni has on many occasions welcomed China contributing to Uganda's trade and technology. Museveni said recently while opening an industrial park in central Uganda, "The Chinese have brought industries to Uganda which have created employment. They are helping us deal with the infrastructure bottlenecks in road construction and power generation."
The consensus among role players and observers is that the expo took place at the right time, when both Uganda and China are looking to expand mutual trade opportunities. These opportunities have brought a sense of optimism. Thomas Kamusala, an economist at Makerere University in Kampala, said in a recent forecast that China-Uganda trade is likely to grow by more than 2 percent in the 2019-20 period.
(Reporting from Burundi)
(Comments to niyanshuo@chinafrica.cn)