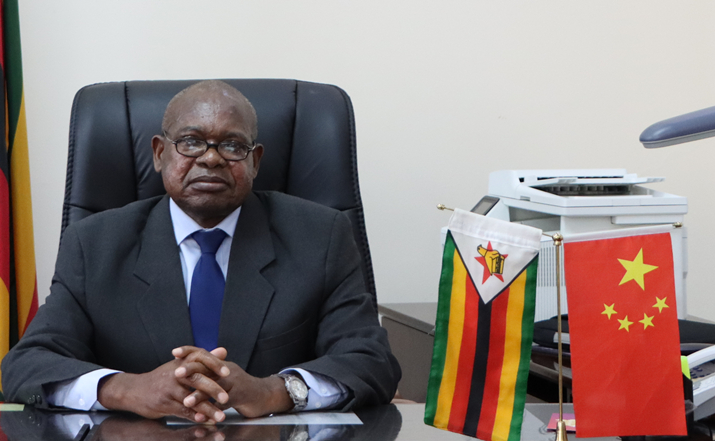 Zimbabwean Ambassador to China Martin Chedondo (COURTESY)
April 18 this year marks the 40th anniversary of the establishment of diplomatic ties between Zimbabwe and China. On this occasion, Zimbabwean Ambassador to China Martin Chedondo sent a message to peoples of both countries through ChinAfrica. The following is the edited excerpt of the message:
On April 18, the people of the Republic of Zimbabwe will commemorate their 40th Independence Anniversary. Traditionally, this day has been characterized by jubilation across the country; however a dark cloud hovers across our nation as Zimbabwe and its people fight the scourge of COVID-19 pandemic which has ravaged the whole world. In the midst of this atmosphere, the gallant daughters and sons of Zimbabwe will always take time to reflect on the country's history and its long journey towards self-determination. These reflections evoke strong emotions as many people paid the ultimate price and sacrificed their lives for an independent Zimbabwe.
Solid friendship
Our people are also mindful that the long walk to freedom wouldn't have been achieved had it not been for the sacrifice of other friendly countries like China who contributed immensely through military training and financing to Zimbabwe's struggle. The people of Zimbabwe will always cherish this act of kindness from a country which was also developing and had its own development priorities to settle, but still chose to assist. Not even the distance between our two nations could deter a good heart from extending a helping hand, and the revolutionary spirit and quest for decolonization prevailed.
Befittingly, China established diplomatic ties with Zimbabwe on 18 April, 1980, one of the first countries to establish diplomatic relations with Zimbabwe. Thus we mark this important day as it coincides with the 40th anniversary of diplomatic relations between our two brotherly countries.
The year 2018 witnessed the advent of the Second Republic and a new dispensation in Zimbabwe. Under the able leadership of His Excellency President E.D Mnangagwa, Zimbabwe adopted Vision 2030, aimed at transforming the country's economy into an Upper Middle-Income status. To achieve this objective, rule of law and good governance were embedded in the raft of economic reforms introduced under the mantra "Zimbabwe is open for business."
In addition, Zimbabwe embarked on a re-engagement and engagement thrust in order to forge mutually beneficial relationships with the international community. However, China remained a key strategic partner for Zimbabwe as we continue with the re-engagement and engagement thrust. To this end, I wish to invite all Chinese enterprises and business people to take advantage of the country's diversified economy, geographical location in the SADC region, highly skilled labor, and abundant investment opportunities in mining, infrastructure, energy, agriculture, health, services industries, manufacturing and tourism and make our country their preferred investment destination.
Fruitful cooperation
Since 1980, relations between Zimbabwe and China have blossomed and increased in scope as several areas of cooperation have been established including economic, political, trade, social and people to people. The elevation of these relations in 2018, to the level of Comprehensive Strategic Partnership of Cooperation attests to the determination between the two countries to achieve a mutually beneficial "win-win" development-oriented cooperation. To further enhance this relationship, President E.D. Mnangagwa and President Xi Jinping have continued to maintain close interaction for the mutual benefit of both countries.
For the past four decades, China has played a significant role in the socio-economic development of Zimbabwe through its funding of the following projects, among others: Construction of the 80,000-seater National Sport Stadium opened in 1987; refurbishment of Hwange 7 and 8 power station; construction of Mahusekwa Hospital (China-Zimbabwe Friendship Hospital); upgrading of Victoria Falls airport and Robert Mugabe International Airports; and ongoing construction of a new parliament building. In addition, the Chinese development assistance has augmented the Government's efforts toward poverty alleviation through supporting irrigation schemes to newly settled farmers, constructions of clinics, schools and sinking of boreholes in dry parts of the country. The humanitarian hand of the Chinese people has also been handy to our people; the support rendered to us during the devastating cyclone Idai in 2019 will always be cherished.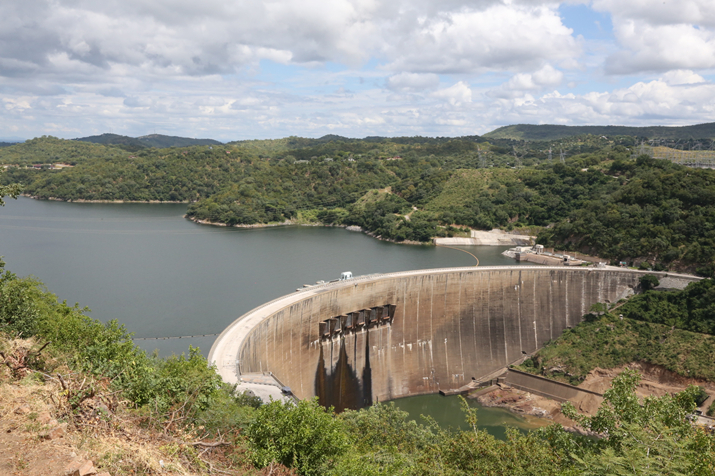 The extension project of the Kariba hydropower station in Zimbabwe is a fruit of China-Zimbabwe cooperation (XINHUA)
Unity in face of epidemic
Our country has not been spared by the global COVID-19 pandemic which has ravaged the entire planet. Having suffered the effects of this pandemic earlier than most of us, China again stepped up its efforts to assist countries like ours which were experiencing the callous of this pandemic for the first time. In Zimbabwe, the Chinese Government provided masks, testing kits and protective clothing.
Whilst COVID-19 threatened to reverse the gains achieved in China's 70 years of progress, economic development and contribution toward global economic growth, the strong determination, resilience, focus, unity of purpose and discipline of the Chinese people has resulted in the defeating of this scourge in China. Notwithstanding the lethalness of the virus, China was not shy to share its experiences with the rest of the world and dispatched its personnel to the frontlines of the battles. This sacrifice and act of goodwill in time of need is a clear reflection of China's global leadership role to which many of us are collateral beneficiaries.
As global markets continue to tumble due to uncertainties and disruptions caused by the pandemic, we are hopeful that as China's economy rebounds from these shocks, we shall all take sanctuary under its economic umbrella. COVID-19 has once again reinforced the principle that globalization is irreversible and individualism/unilateralism will cause us all to fail. Thus, a new impetus has been injected into the cardinal role of multilateralism. Zimbabwe remains steadfast in its support for the promotion and protection of principles and values that uphold multilateralism.
In conclusion, as the people of Zimbabwe commemorate their 40th independence anniversary and the establishment of diplomatic relations with China, we shall always cherish the strong bond of friendship that exist between our two great nations, that has weathered the storm and stood the test of time. This bond of friendship shall continue to be natured for generations to come. In China, we have a true and genuine friend and in Zimbabwe, China has a dependable and principled partner.
(Comments to zanjifang@chinafrica.cn)