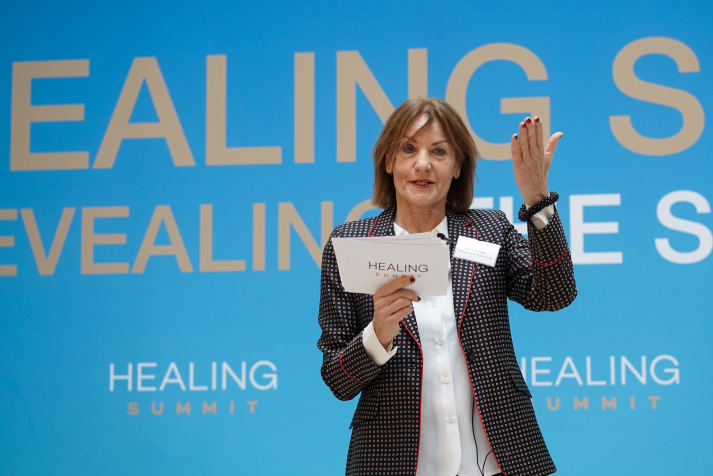 Anne Biging,
CEO and co-founder of Healing Hotels of the World (
Photos courtesy Healing Hotels of the World)
I was a small child when my parents and grandparents dragged us to a place called Rob Ferreira Springs on the banks of the Vaal River in the North West Province of South Africa. The "resort" was known for its natural hot springs. It smelt of sulphur and old people and was only occupied by the latter. It was the holiday from hell.
Or one could visit Warm Baths natural hot springs, closer to Johannesburg. Every one over 40 went there for their rheumatism. All joint and back ailments and pains were then known under the universal moniker of rheumatism.
Many years later I was covered in mud in the Dead Sea in Israel and thought it a blast. During the same period I had a genuine traditional Turkish bath/massage in Cesme in Turkey. For the privilege of being scrubbed, rubbed and pummelled like a turkey for Christmas on a marble slab by a silent fat man dressed in nothing but a loin cloth, I paid the princely sum of about R20. But I came out feeling newly born. I had honestly never before or since felt better in my life.
Healing summit
Things have changed ever so slightly as I discovered quickly at the beautiful 5-star Hotel de Rome in Berlin on a very, very cold day in March. I was there attending the 2018 Global Healing Summit, courtesy of Healing Hotels of the World.
Speakers over the two days included high-profile names like Valerie Smaldone, a 5-time Billboard Magazine Award winner and well known for her unprecedented success of holding the top on-air position in the New York radio market. Steve Griffith, the Director and Founder of Sukhavati Ayurvedic Retreat & Spa, Bali as well as the Director and Founder of Griffith Consulting Group and Veda Wellness in Australia, was also a speaker, as was Marjorie Hines Woollacott, PhD, a neuroscience professor at the University of Oregon for more than three decades.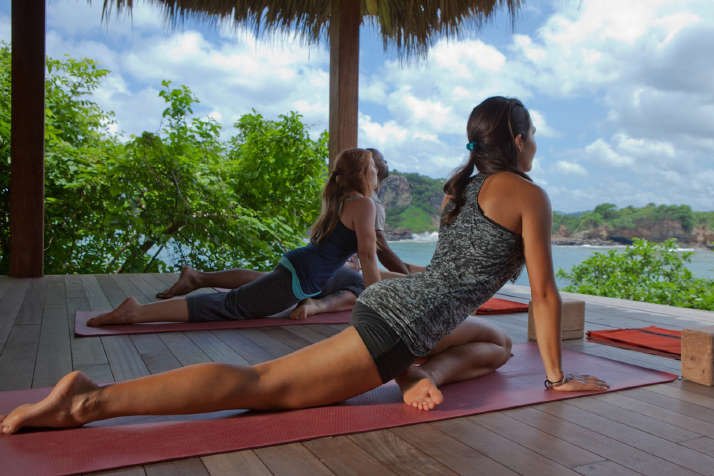 Practicing yoga
We also listened to Stacy Fischer-Rosenthal. With over 30 years of experience in the industry, Ms. Fischer-Rosenthal transformed her company Fischer Travel into an elite travel and lifestyle brand for the very wealthy. They have no website on principle which says it all.
She told us hilarious and bizarre stories of how one client wanted camels washed with baby shampoo and their teeth brushed before they rode them (which Stacey's team did) and another client who wanted poor people removed from sight where they vacationed (which they didn't do). While these clients may not be famous celebrities, to them no request seems too outrageous. But Stacey did tell me afterwards that she had dropped some clients in the past because the clients disrespected the local communities and staff.
China's huge hospitality market
But to me, Julia Zhang was one of the most interesting speakers. She has been working for the brand Grand Bay Hotels for nearly 20 years. Zhang is now the Deputy General Manager of the Grand Bay Hotel Beijing, the first Premium Member of Healing Hotels of the World in China, as well as the Deputy General Manager of the Grand Bay Hotel Zhuhai, the first Urban Healing Hotel of the World.
"China's hotel industry has experienced meteoric growth, resulting in a $44 billion business with 2.5 million hotel rooms," she said. "Far from reaching a saturation point, the explosive growth of China's hospitality market will continue unabated over the next decade. Compared with hotel penetration rates in mature markets, the UK has 10 hotel rooms per 1000 people; the U.S. has 20 hotel rooms per 1000 capita. China, with four hotel rooms per 1000 people, appears low. Research indicates that in the next 10 years, the China hospitality industry will become a $100 million industry with 6.3 million rooms and reach eight hotel rooms per 1000 people. In terms of the healing market, to give a sense of perspective, figures from the Global Wellness Institution indicate that in 2016, there were 122 million Chinese outbound tourists, and various estimates forecast that the Chinese outbound traveller figure will skyrocket to 200 million by 2020. The scope for expansion is vast and the direction of travel is toward more wellness. To a major extent, this will shape the future of the global wellness industry for years to come," said Zhang.
She also cited a study conducted by Boston Consulting Group (BCG), reporting that the value of China's emerging health and wellness market will climb to nearly $70 billion by 2020. According to the report, Chinese consumers are the most health conscious in the world and 73 percent of those surveyed noted they would be willing to pay a premium for products deemed to be healthier.
In between speakers, we had yoga and meditation lessons and though sceptical at first, I must say I enjoyed it, although it was somewhat of a bizarre scene, people in suits jumping around and then standing on one foot, eyes closed.
Lucrative healing holidays
Phrases like mindfulness, a new emotion-based economy, corporate alchemy, transformation, abundance (meaning money), the universe (not in a scientific context) and other "female energy" expressions were bandied about but it was the salient facts that I was interested in.
These phrases mean nothing to me but to stressed out billionaires who are "in pain" as one speaker said, they mean a whole lot. Anne Biging, my host, CEO and co-founder of Healing Hotels of the World explained it to me: "Many people in the 1 percentile of the wealthiest in the world have issues that doctors and psychiatrists can't fix. The difference between wellness and healing may not be obvious but it's very distinct. Wellness means taking care of your health. The healthy eating plan, exercise, massages and spa treatments are all great to have at a lovely property on a vacation. But healing is more profound, looking at becoming a true human being – having an open heart, helping others. This is difficult to find in a rabidly greedy world and it's ultimately inner healing that matters. This is what we strive to provide," says Anne. It is clear that she has a noble quest but there is undeniably big bucks in feeling- better holidays and hotel groups around the world are waking up to this demand.
The group Elounda SA Hotels & Resorts and their Six Senses Spa recently announced a new "Sleep Well" program for 2018. This program is designed to assist guests in falling to sleep and feeling well-rested in order to achieve the best quality shut eye at their hotel in Crete. "In collaboration with product partner Subtle Energies, the spa's Sleep Well Journey goes beyond simply boosting one's mood or banishing under-eye circles," says the press release.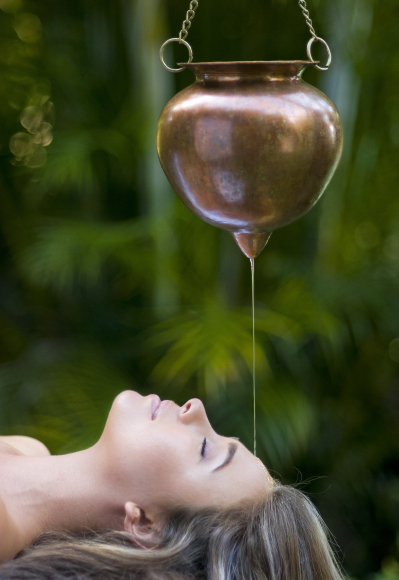 A gaia shirodhara healing
"Based on clinical research and ancient practices to alleviate sleep concerns, this journey begins with guided mediation and pranayama breathing exercises to positively impact the flow of energy. A full body massage then releases tensions and brings the body's rhythm back into balance, while the facial marma massage assists in stimulating the pineal gland using potent active ingredients. This is followed by the nasya, a nasal oil application which has been used for centuries to relieve sleep issues. The final step is the Shirodhara, a powerful Ayurvedic technique which activates the pineal gland and the sleep hormone, melatonin," it goes on to say. The whole thing lasts for two hours and the weight loss to your wallet is the first thing you'll notice. It costs $400. Oh, and you also get three smoothies thrown in.
According to the Global Wellness Institutes, wellness tourism revenues grew 14 percent between 2013 and 2015, more than twice as fast as overall tourism expenditures (6.9 percent). World travellers made 691 million wellness trips in 2015, 104.4 million more than in 2013. Wellness tourism now accounts for 15.6 percent of total tourism revenues - nearing 1 in 6 of total "tourist dollars" spent. That's, in part, because wellness travellers spend much more per trip: 61 percent more than the average international tourist. Wellness tourism is responsible for 17.9 million jobs worldwide. The spa economy, including spa facility revenues, and also education, consulting, associations, media, and event sectors that enable spa businesses, grew to $98.6 billion market in 2015.
Because of this, major brands like Six Senses hotels, the Park Hyatt Dubai and the Taj Exotica Goa have seen the sense of joining Healing Hotels of the World.
The group is the only global quality brand uniting the best and most advanced hotels and resorts in the field of holistic health under one umbrella.
"The Healing Summit 2018 was stronger than ever before," says Biging. "It clearly showed that healing is now understood and seen as the next big step in the global holistic health (wellness) movement. The Healing Summit is now seen as a driver and representative of the healing movement."
Way of life
Biging says that holistic health is a lifestyle and concerns all parts of our life. "We especially emphasise the implementation of a holistic understanding in the business world and economics. At the Healing Summit we have shown the corresponding business values. As this lifestyle affects all parts of our life it is relevant for products, all aspects of life that concern sustainability, and much more."
What was the most valuable lesson learned from this Summit?
"That all aspects of holistic health are now very much wanted. The doors are wide open. It was a huge confirmation for the work we have done and showed huge possibilities for the future."
These are some world-class spas and while some of them are award winners in a "spa" category of hotel awards, they have yet to tap into the global holistic concept which Biging refers to. And yet we have it all – mind-numbingly amazing wildlife, wonderful flora, majestic locations and activities and unusual adventures to keep you busy for weeks, including cultural and community excursions.
Wellness is not just about a relaxing massage somewhere in the bush anymore. It's a life-style holiday "whole" sell and as soon as Africa can tap into that, using all the riches at its disposal, it can also claim its share of this highly lucrative opportunity. Oh, and make people feel better and happier as a bonus…
https://www.howwemadeitinafrica.com/kigali-sparkles-hills/54213/
http://www.bbc.com/news/10479882