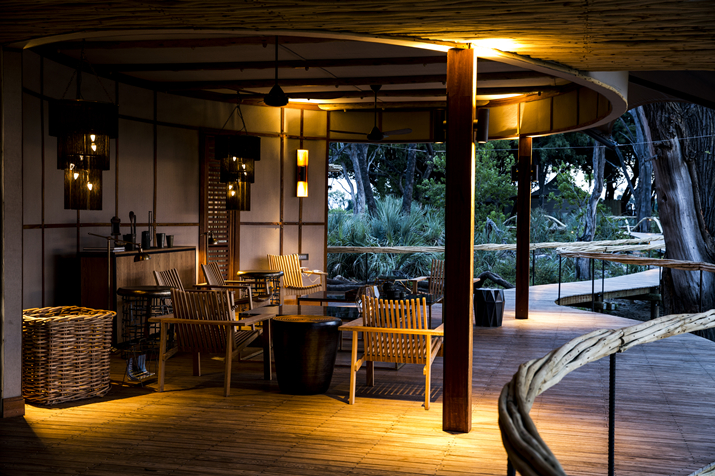 Wilderness Safaris, one of Africa's leading luxury safari operators, in January announced the official opening of its newly-rebuilt flagship camps, Mombo and Little Mombo, situated in the heart of the Okavango Delta, Botswana. Whilst comprising the most appropriate and sustainable luxury required of such a leading destination, the new camps are rooted in an authentic bush-camp offering to ensure that the original Mombo experience is retained.
Wilderness Safaris has seen three generations of Mombo Camp, undoubtedly one of Africa's foremost wildlife and ecotourism destinations. "Launching the fourth Mombo Camp is a dream come true for Wilderness, and we are extremely proud of the collective efforts and vision of our various teams who have worked tirelessly to make this happen," said Kim Nixon, Wilderness Safaris Botswana Managing Director. "The camps have been built in such a way as to maintain the Mombo traditions and history stretching back nearly 30 years, yet remodelled to the highest and most innovative standards."
Conservation ethos
This commitment to sustainability and operating with as light an eco-footprint as possible, forms part of Mombo's dedication to Wilderness Safaris, the so-called 4Cs ethos of Commerce, Community, Culture and Conservation. The Conservation C forms part of Mombo's main purpose, with Mombo having played the key primary role in rhino relocation through its Botswana Rhino Reintroduction Project since the turn of the century.
However, it is not only about the rhino. It is a "Place of Plenty" that conserves and protects an enormous number and variety of animals, with each Mombo guest playing a vital role in the ongoing biodiversity protection of this remarkable concession. "Mombo is an extraordinary destination and we can't wait to showcase the new camps to our guests. We have no doubt that Mombo will continue to exceed their expectations, remaining a place of harmony: a balance between the camps, the environment and the people who stay here," Nixon concluded.
Interior Designer, Caline Williams Wynn from Artichoke, said that Mombo is the Rolls Royce of the Okavango Delta. "This rebuild is about taking the camp into the next 20 years. Space was a key factor in creating the new design - each tented suite has its own spacious entrance, sitting room with bar unit, separate bedroom and bathroom with dressing area, indoor and outdoor showers, double vanity, bath tub and separate toilet. The view out in front of the floodplain is uninterrupted, thanks to the use of wood sliding louvre shutters that can be open or shut completely as the guest would like and a sliding gauze second layer to allow for maximum air flow.
Spacious decks feature private plunge pools and swing beds overlooking the Delta...perfect for midday relaxation and siestas.
Traditional and vintage elements have been combined with a modern elegance, embracing the real essence of Mombo...deconstructed furniture in classic styles is reminiscent of the vintage designs; antique brasswork, vintage leathers, Belgium linen, copper lighting and copper-cladded fire places combined with marble and natural oak floors.
Botswana grasses have been used as inspiration for artefacts such as embroidered wall hangs and shower screen details.
A tonal colour palette has been used throughout to re-iterate the longevity of the interior design.
Furniture has been sourced and manufactured throughout the world to emphasize the collective curation.
Personalized décor
A mix of mismatched - yet complementary - wooden furniture all works together to feature a collection of pieces sourced over the years, resulting in a personalised feel.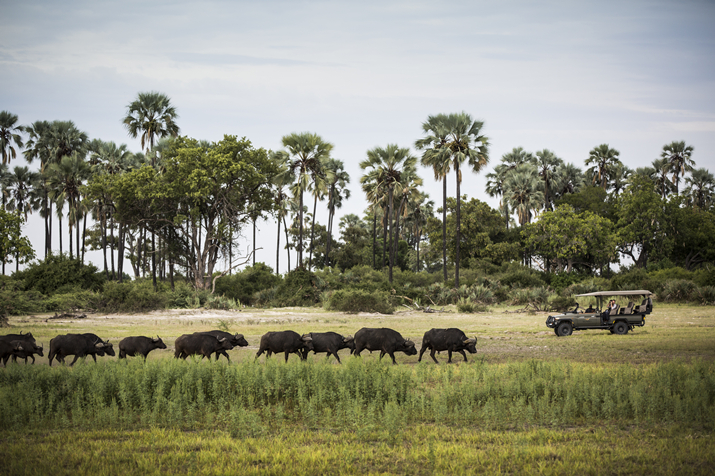 Other interior features include headboards and bed bases made of crackled leather with hand-stitching on the seams, deep button vintage leather sofas in the suites; wooden and brass chandeliers; and custom-made, hand-painted embroidered cushions. "We have introduced a fireplace at Little Mombo and central fireplace at Mombo," she added. A comprehensive book collection has also been donated to the Mombo Library. In addition to a separate gym, there will be a new spa with a lap pool overlooking the floodplain.
The old Mombo is still visible in the design, ensuring returning guests feel comfortable in their surroundings too, as well as ensuring an authentic, vintage feel for new guests. "We used elements of the old Mombo to keep the feel the same, such as copper lighting and copper cladded fire places; old walkway planks/floors were salvaged to be used as the walled panelling in the curio shop and as breakfast counters in the dining area, while the iconic front doors were reinstalled in each tent - an original Mombo door...that is definitely a feature for Mombo stalwarts."
By all accounts, it's a show-stopper!
About Wilderness Safaris:
Wilderness Safaris is Africa's leading authentic and sustainable ecotourism operator, specialising in memorable wildlife experiences in some of the most remote and pristine areas in Africa. In this way it offers its guests private access to almost three million hectares of Africa's finest wildlife reserves, while remaining fiercely committed to protecting our planet's precious natural and cultural resources.
Wilderness Safaris operates camps and safaris in some of Africa's best wildlife and wilderness reserves across eight countries: Botswana, Kenya, Namibia, Rwanda, Seychelles, South Africa, Zambia and Zimbabwe.
Recognising that conservation is as much about people as about the environment, the company has pursued important goals through its Children in the Wilderness programme, as well as through the Wilderness Wildlife Trust, which have helped change the face of nature-based tourism in Africa.
Wilderness Safaris is part of Wilderness Holdings, a group of responsible ecotourism companies that together endeavour to use responsible tourism to build sustainable conservation economies in Africa.