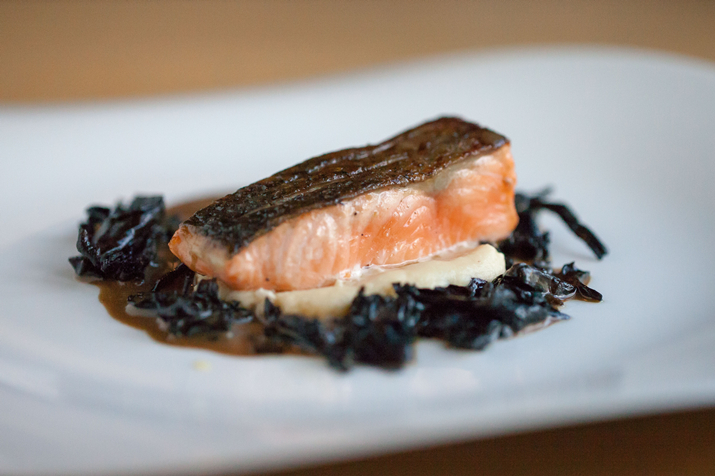 Food Barn (courtesy photos)
Classically, the best chefs in the world have always been French and given the Cape's French Huguenot history, one would expect South Africa's culinary capital to boast a litany of fine French restaurants. Instead, the modern trend to fusion food has left only a handful, but they really are worth visiting. Italian, Greek and African eateries abound, but the lure of classic French cuisine and the atmosphere that only a French chef can impart are as scarce as fois gras. Enter my saviour - Franck Dangereux of The Food Barn fame.
The Food Barn
Franck, who hails from Cannes and trained under world-renowned chef Roger Vergé (then working in two Michelin 3-star restaurants in Paris), is probably best known to South Africans as the culinary genius behind La Colombe, where he was rated 28th in the top 50 restaurants of the world. But, the story of The Food Barn goes back to when Franck had just arrived in the Cape, some 35 years ago. A late night introduction in a bar and a very long and liquid evening saw business partner, Pete de Bruin promise to open a restaurant with Franck. In 2006 that dream came true.
The Food Barn has become a destination for lovers of fine dining. Recently redecorated, it certainly is worth making ones way to this elegantly casual restaurant in Noordhoek's Farm Village.
Serious foodies will know of Franck's monthly Chef's Table lunches where he gets to show off and produce superb and creative dishes that are paired with a featured cellar's wines. Expect about seven courses during these Friday lunches that will extend late into the afternoon. Examples are quail salad with wilted frisée, grilled oyster, yuzu, truffle and parmesan and a little wild mushroom parfait served with burnt pecorino crème and a thyme brioche. If you are unable to make it to the Chef's Table, lunch or dinner remain a feast for the senses and the à la Carte menu offers French classics like steak tartare, bouillabaisse, fish "Grenobloise" served with a caper cream and a wonderful variety of vegetarian dishes as well.
Commenting on his menu, Franck says: "I wanted to make dishes that were more accessible, more mainstream for people in a normal income bracket, with exciting elements in all courses, ones that I love, so I use them." And what a treat it is!
La Muse
Perhaps my most welcome discovery in pursuit of French cuisine in Cape Town came from Romanian Chef, Szabi Donca of La Muse. Born in Transylvania, Chef Szabi's classical training and cooking for the French Senate and Jacques Chirac in Paris bring an exciting depth to the wonderful and good value food that he serves.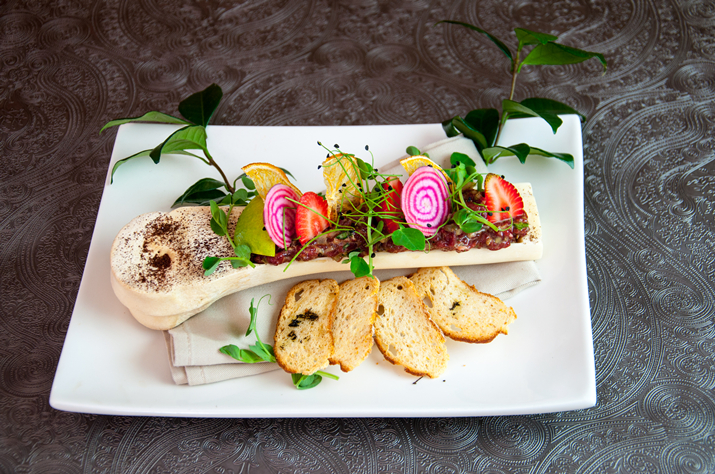 La Muse
The charming executive chef's extensive work and travel in Europe and the U.S. took him to Bermuda where he fell in love with his South African-born wife and over an eight year period earned a string of awards. One of the highlights of his career there was cooking for Queen Elizabeth II and the Duke of Edinburgh during their visit to commemorate Bermuda's 400th anniversary.
Chef Szabi focuses on the freshest local ingredients to give a twist to traditional French dishes like steak tartare, which is given a new look as springbok tartare, decorated with micro organic mushrooms and served on a giraffe bone. Yes. The shape of the bone makes a beautiful and elegant boat. And then there's the filet mignon, cooked to tender perfection and served with a gremolata of Provençal herbs. These are just two dishes highlighting his culinary passion and commitment.
He says, "At the end of the day you put yourself on the plate. It makes a difference if you put your heart and soul into it." And, that he certainly does. Chef Szabi regularly serves salmon and scallops, but do ask, as these are not always on the menu and depend on the freshest ingredients being available.
The restaurant offers a comprehensive wine list featuring favourites like Springfield, Jordan and Tokara, as well as Champagne, and is situated on a corner of promenades, giving diners an authentic European feel as they watch locals saunter past, real French bistro-style.
The name says it all - La Muse means a spirit or source that inspires an artist, and that he certainly is.
The Vine Bistro at Glenelly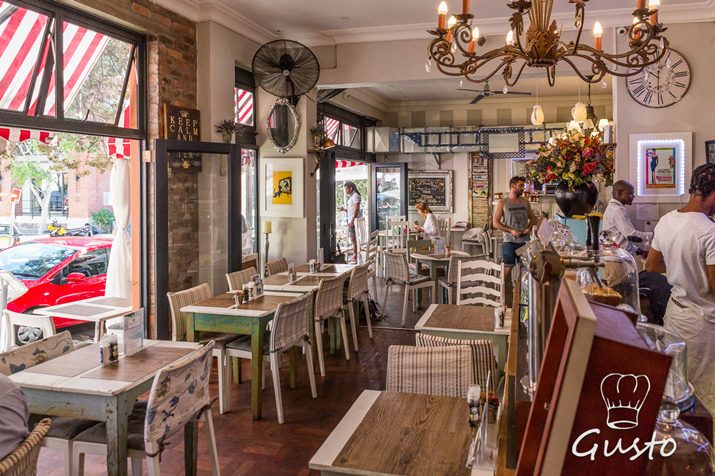 La Petite Tarte
With formidable French credentials, Glenelly estate in Stellenbosch, boasts one of the most beautiful Provençal-style terraces, ideal for enjoying French chef, Christophe Dehosse's menu while surrounded by lavender and water features, and watching springbok roam the hillsides.
Born in Mauix east of Paris, Dehosse started his love of cooking early in life. Guided by his mother and grandmother, he was already making béarnaise sauce at the age of 10 and left home at the tender age of 15 to attend hotel school in Paris. After meeting his South African wife, fellow chef Susan, at the Michelin 2-star L'Auberge de Condé, the couple settled in the Cape in 1992 and are well known for their Joostenberg Deli and Bistro.
Owner May de Lencquesaing, former proprietor of Bordeaux Chateau Pichon Longueville Comtesse de Lalande sought out Chef Christophe to open the Vine Bistro late last year. The food is all based on a classical French foundation and draws on the freshest ingredients available, accented by herbs from the cellar roof garden and designed to complement the estate's wines.
Says Chef Christophe, "To me, it's all about flavor. Everything you do must be about flavor."
"You want to feel that you have just been treated and the greatest compliment to me is when plates come back empty." And that they certainly do!
La Petite Tarte
If you're looking for a French café in the heart of the city, look no further than La Petite Tarte in Dixon Street in the Cape Quarter in Green Point. It is like stepping into an authentic French patisserie filled with a wonderfully eclectic mix of objects d'art and an equally eclectic menu.
Although the bistro had a French owner 15 years ago, new owner, Juhan Kleingold has expanded his offerings to include a selection of Cape Malay dishes. "There are just too few French people in Cape Town and besides, we cater for tourists from all over the world," he says.
For those looking for French classics, dishes like the eggs Benedict, soufflé omelette and croquet monsieur will not disappoint. The café is also famous for its carrot cake, which is well worth a visit.
Contact:
The Food Barn, Noordhoek Farm Village, Noordhoek, Ph: 021-789-1390 www.thefoodbarn.co.za/
La Muse, 14 Jetty St, (behind the SARS building), Foreshore, Cape Town. Ph: 021-431-8820 www.dinelamuse.co.za www.instagram.com/lamuse2016/?hl=en Parking available when booking.
The Vine Bistro, Glenelly Estate, Lelie Street, Idas Valley, Stellenbosch. Ph: 021-809-6444 glenellyestate.com/#bistro
La Petite Tarte, Cape Quarter, Dixon Street, De Waterkant, Cape Town. Ph: 021-425-9077 www.facebook.com/lapetitetartect/abou