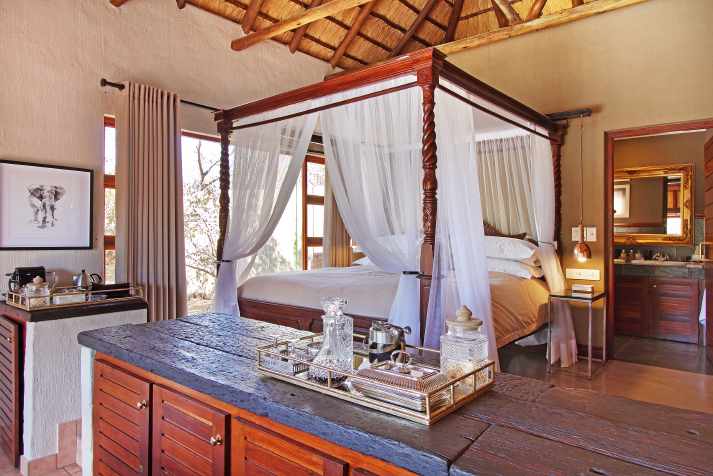 Courtesy photos
Camp Ndlovu. Remember this name, especially if you are regular peruser of reviews on Tripadvisor. There are no reviews on said social media site yet and this is because it is a brand new lodge. But I have no doubt when they start rolling in the reviews will all be five-star. That's because there is simply nothing to fault about this magical place.
We set off on a stiflingly hot morning in early December for Camp Ndlovu (part of The Residence Portfolio) which is situated in the Welgevonden Game Reserve in the Waterberg region of the Limpopo Province in South Africa.
Getting there is an easy two-and-a half hour drive from Johannesburg on good roads.
Our ranger for the duration of our stay, the amazingly knowledgeable Malvin greets us at the main gate parking with champagne and snacks before parking our car - for conservation and safety reasons, no guests are allowed to drive in the reserve unaccompanied, which I think is a damn good idea. For the next hour or so, we traverse the beautiful area en route to the lodge. At 34,850 hectares in size, Welgevonden Game Reserve lies in the Waterberg plateau, and we experience this beautiful pristine environment where biodiversity, conservation and game viewing are managed in harmony. Welgevonden protects a unique and special environment and the reserve's management is deeply committed to on-going conservation, research and development, Malvin tells us. The hills shimmer bluish in the far distance and the cicadas provide the soundtrack on this hot African afternoon. One of the other guests puts it beautifully as we appreciate the sweeping vistas: "There is so much stunning emptiness."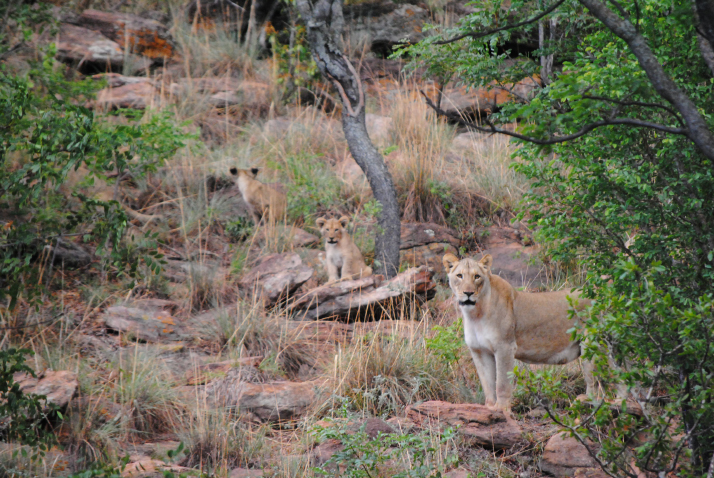 Wide range of wildlife
That is as far as the views go, but certainly Welgevonden is jam packed with local residents. Malvin says that the reserve is home to over 50 different mammals, including the Big-Five. There are rare and unusual species too, such as brown hyena, pangolin, aardwolf and aardvark, all best seen at night. The grassy plains abound with antelope from the largest eland to the diminutive duiker, and cheetah, lion and leopard are always close by. It is the diversity of habitat on the reserve that encourages such a wide range of wildlife as well as over 300 bird species, including rare blue cranes. The rolling wooded mountains cut by deep rocky ravines and majestic gorges make Welgevonden Game Reserve an evocative piece of Africa indeed. We spot zebras, giraffe, a shy little "klipspringer" buck, wildebeest and impala on our relatively short journey. The plants and trees glisten like emeralds in the sun, evidence of the abundant rain the previous week. It also seems as though all the animals have babies. A waterbuck makes a sudden appearance and Malvin tells us that that they protect themselves by excreting a horrible scent when threatened. He is a veritable bush encyclopaedia. As we approach the lodge, we also see monkeys, a black-back jackal and our first rhinoceros! Rhino conservation is taken very seriously here with armed guards keeping these magnificent beasts safe from poachers.
We are greeted at the lodge like some sort of nobility with all the staff smiling and welcoming us with ice cold drinks and towels. The GM Warren introduces himself and leads us onto the main wooden deck area overlooking a small stream and the bush and trees beyond. And lo! There, meters from us, another massive rhino is enjoying an afternoon nap under the shade of a tree. We sit mesmerized watching this beautiful site for a while with cold beer in hand and then we have lunch together - him chomping on his green grass and us tucking into the most delectable prawn tempura and barbequed chicken skewers with fresh salad. Below us the stream gurgles to the tune of the birdsong everywhere and all is right with the world.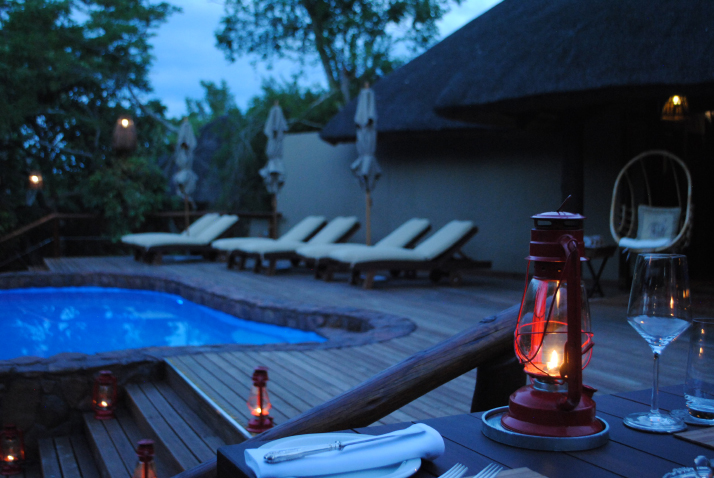 Creature comforts
Things got even better as Warren shows us to our lodgings for the next two nights. Situated only a few meters from the main lounge and dining area, the family unit with its adjoining rooms is an absolute revelation. It is decorated with the same panache, style and elegance as the main lounge area, featuring Persian carpets, chandeliers, gilt-edged mirrors and a fire place as well as your own private splash pool overlooking the bush. The hand-carved wooden double beds with mosquito netting, crystal vases containing sherry and fixtures, paintings and art all attest to impeccable taste and attention to detail yet the natural fabrics and elements like reed, wood and stone in the architecture retains the wild beauty and earthiness of Africa.
The rooms are huge with air conditioners, mini-bar, inside and outside shower - and a white Victorian bath tub in the middle of its own little garden! On either side of the twin rooms, the walls are mostly glass to make one feel part of the natural environment, immersed in the bush.
A huge baboon sizes me up and down from beyond the stream but wisely decides to retreat. Always keep your doors and windows closed here to avoid monkey and baboon shenanigans. I skip the afternoon game drive in favor of relaxing on the huge wooden deck under the canopy of trees with the warm breeze and wildlife for company. The main area later is transformed into a fairy tale land of soft lanterns and the fire is happily crackling away in the fire pit. Dinner is again a feast with beef Carpaccio, gazpacho soup as starters and venison with mash and Norwegian salmon for mains. The kudu venison is melt-in-the-mouth delicious and the Carpaccio and soup both top-drawer, declares my mom. The salmon tastes like it just committed euthanasia after a happy life and jumped straight onto your plate - fresh, fresh, fresh and cooked to perfection. The accompanying local chardonnay is equally stellar. The food here - from Lawrence and his team - can be summed up in three words - simple sophisticated brilliance. But the thing that impressed me the most is that when you ask for only half a portion, you actually get half a portion. An almost extinct ability is found here among the staff - they actually listen.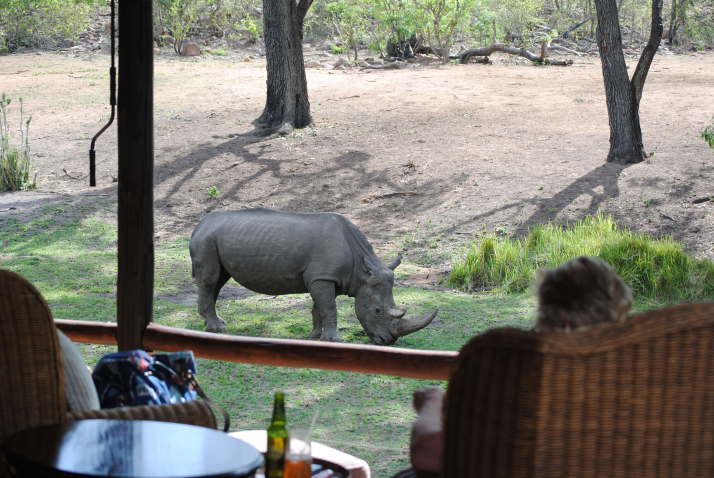 Attentive staff
And on the subject of attentiveness, here is another example. As we are eating and chatting by the soft lantern and chandelier light, I spot a book in the bookshelf that I have been dying to read and I fetch it. Warren sees me looking at the book and brings over a tiny torch light which can be attached to the book to illuminate the pages. It's these wonderful examples of observation from all the staff here that help make Camp Ndlovu so amazing. The staff are never obsequious but instead they are warm and funny and will make sure your every need is met with a smile. Returning to the room after dinner we are surprised by candles everywhere, a bubble bath and champagne on ice - how marvelous!
Much later my mom and I sit on our patio by the pool, enjoying a night cap under the stars and chatting like we haven't done in many years and listening to night sounds. It occurs to me that this place holds many blessings.
My 82-year old mother - bless her heart - goes on the safari game drive very early the next morning while I turn over and continue my glorious slumber in my gargantuan bed with its white percale linen. If I had one superpower it would be to get eight hours of continuous peaceful sleep - in this majestic bed.
Much drama ensued on this particular drive though apparently and it is a sore lesson to me to never miss a game drive again. Malvin showed them a lion killing a wildebeest and much excitement ensued naturally. I nurse my chagrin a bit at breakfast due to missing out but a massage later in the superb hands of Kate soon sorts me out. Then another lovely lunch followed by a splash in my pool and a nap is just the ticket before the afternoon game drive, where I'm first to board the safari vehicle.
We see a myriad of white rhino, more herds than I have ever seen together in one reserve. It is obvious that they feel safe and calm no danger anywhere. We also spot a couple of lionesses and their cubs and countless elephant breeding herds. In fact, the bush heaves with animal activity of every kind and you can hardly turn a corner without some exciting animal scene unfolding. And all the while Malvin explains in detail the animal behavior and interaction. We watch a lioness chase zebra across the plains as the sun sets, dust flying and thundering hooves, before stopping for sun downer drinks by a river, admiring the views.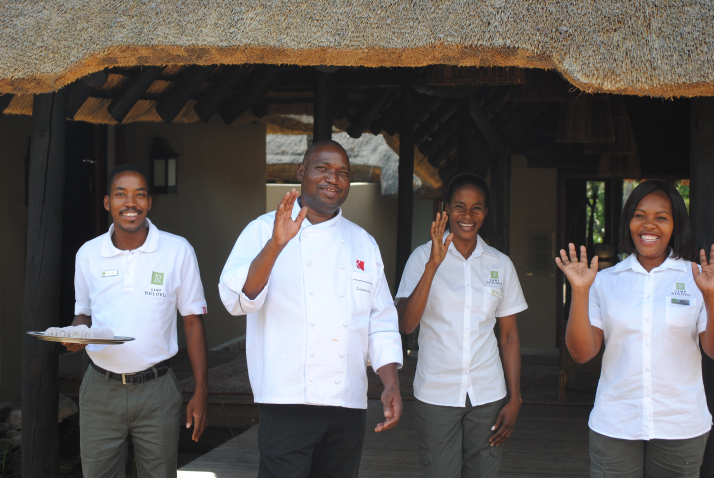 Saying goodbye
On the drive back the last light flees the sky and the twilight creatures crawl from their burrows. The remaining red in the sky bleeds out across the vast bush.
Dinner is served in the boma under the smiling moon and takes the form of a traditional "braai" or barbeque. Lawrence produces fine fair and you can choose between lamb, chicken, "boerewors" sausages, a variety of salads and veggies and delectable pannacotta as dessert. My mom is escorted back to her room after an anxiety attack from discovering a baboon spider in the sand - only to almost step on a baby black mamba in the pathway. Of course, this is cause for much excitement and a while later the mamba is carefully removed by Malvin and his snake catching skills while the entire population of the lodge looks on - sans my mother of course, now safely tucked in and calmed down.
We leave this spectacular place with its wonderful people with sad hearts the next morning but with a treasure chest of unforgettable memories.
Camp Ndlovu - remember the name...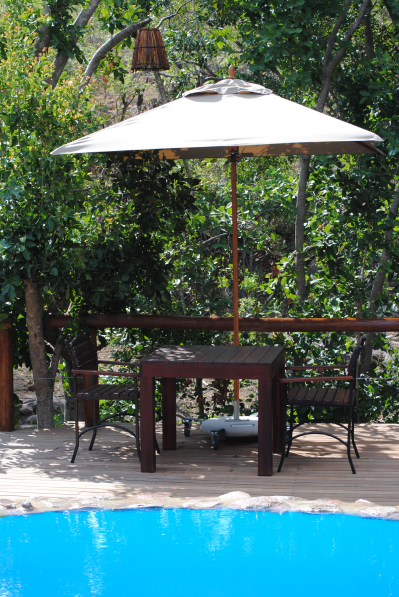 Contact:
https://theresidenceportfolio.co.za/home-ndlovu.html
Getting there:
Air China outbound flights to Johannesburg in South Africa operate on Tuesdays, Thursdays and Sundays, with return services from Johannesburg offered on Mondays, Wednesdays and Fridays.
Flights will departs from Beijing at 23:15 Beijing time, and arrive in Johannesburg at 7:35 local time on the following day. The inbound flight departs from Johannesburg at 11:50 local time and arrives in Beijing at 7:30 Beijing time.
Go to: http://www.airchina.com.cn/en/
From Johannesburg the easiest way to Camp Ndlovu is by renting a car at the airport but the lodge will gladly arrange transfers for you at an extra cost.