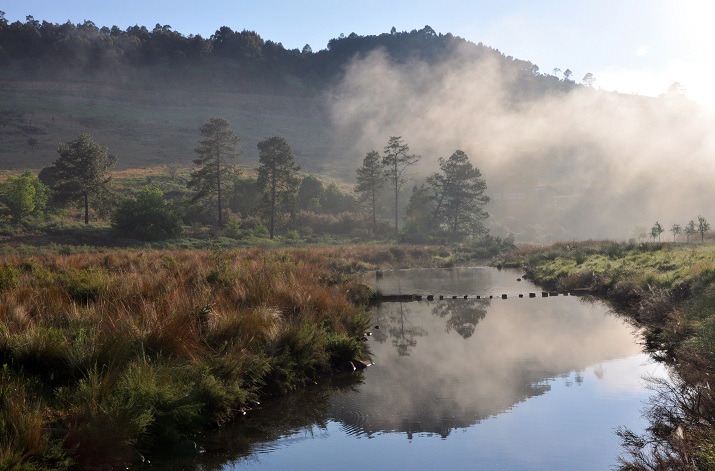 Photos Louise Donald and courtesy
It is a hot summer's day yet under the low white sky lingers memories of many white winters. As I think this we drive past the aptly named Belfast town - Northern Ireland not being a region most associated with excruciatingly hot weather. Only we are not in Northern Ireland. In fact, we are about 14,000 km away, en route to a sleepy hamlet called Dullstroom in Mpumalanga province, South Africa, and along with Underberg, one of South Africa's premier fly-fishing destinations. It is a mere three-hour drive from the hustle and bustle of Johannesburg to this quiet, peaceful beautiful part of the world.
The tussock windswept fields and the rolling green hills with their patches of heather all fly by as I check the clock in the car. Ten minutes then we should be there. "There" being the five-star Walkerson Hotel and Spa, just on the other side of Dullstroom. And then the sign and the gate off the main road. We start a winding decent into a world of surprise. The near identical charm and tranquility of the Scottish Highlands ensnares you in its romance almost immediately.
The road to the hotel passes the manned security gate and wanders further along the airstrip and all the "in-keeping" cottages that are scattered over the vastness of the estate. We drive slowly, admiring the hills and differing views before passing the spa building and eventually arriving at the main building. The hotel lies in a valley enveloped like a soft blanket by the lush, green undulating landscape.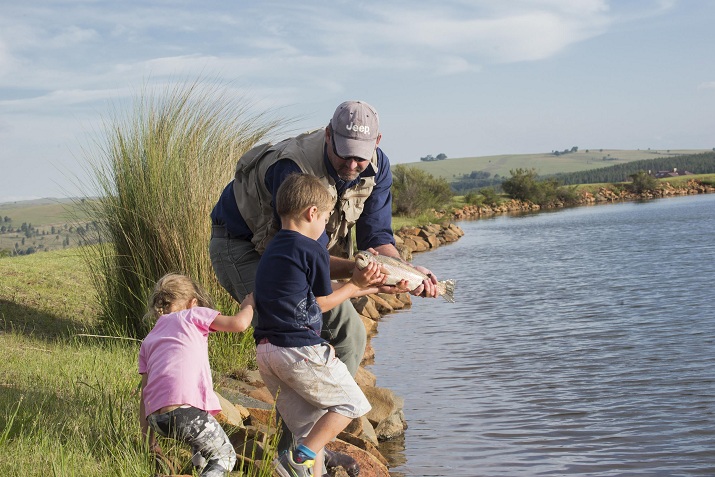 Scottish castle fantasy
We are "nursed" through the simple check-in process with sherry on offer and smiles all around from the friendly staff. We take a walk around the lounge and dining area with the wonderful Samuel as our guide and gape and marvel at the fine colonial opulence of the lounges with its natural stone and wood and its magnificent history - the paintings, carpets, chandeliers, massive stone fire places and art all speak of impeccable taste, succeeding at putting you smack bang in the middle of a Scottish castle fantasy. It is full of nooks and crannies to explore. The atmosphere is slow and sleepy (apart from the stellar service) and an ideal place to relax and recharge the batteries. We are shown to our abode for the night, about 100 meters or so from the main building. Described as a luxury lakeside suite, it is just that with lovely views over the hills and dams. In keeping with the feel of yore, the room is also decorated in classic country manor fashion with fireplace, tastefully appointed bathrooms and large verandas to enjoy the glorious views. The hotel has a variety of room and suite options (27 in all) as well as self-catering cottages. We ponder the vista for a bit before hunger drives us to a lovely table under the trees just outside the main dining room. It is relatively early and we suspect the weekend guests might make their appearance later so for now we revel in the serenity. I am hungry but not starving so I order the kid's burger with cheese. Not expecting much from a child's meal, I'm instantly blown away by the culinary prowess immediately evident in this humble burger. Cooked to perfection, everything is top quality, fresh and home-made, including the mayonnaise. I wonder aloud that if this alchemist of a chef can do this to a burger, what else is she capable of. The menu is simple but delectable - Highland's platter, whole deboned trout, salads and slow-braised oxtail. Elias is our waiter and what a gem of a human being.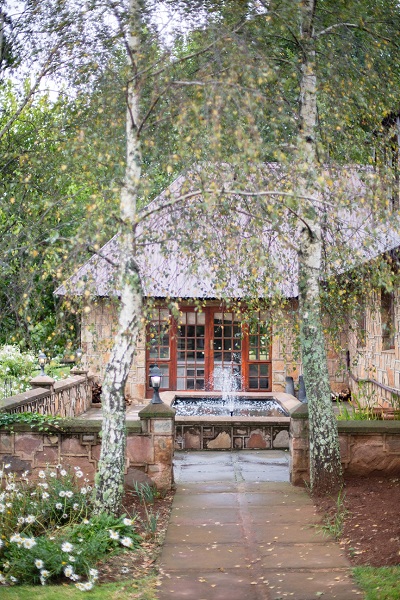 We explore the grounds for the rest of the lazy afternoon as ominous dark clouds gather to the east. The hotel features a sparkling swimming pool with views of the lake and a myriad of other tranquil activities to choose from like fly-fishing (and lessons), cycling, and horse riding and of course hiking. The hotel is also famous for its world-class spa where you can indulge in a wide-range of treatments and procedures like classic Swedish massage, the Healing Crystal Massage, Hydrating/Detox Cocoon or a cleansing Body Polish, all delivered by qualified, experienced therapists.
We walk along contoured stream-side pathways into the hills and back, deeply inhaling the clean mountain air. I'm reminded of a print advertisement I saw in a magazine about 20 years ago, for a make of guitar, was it Fender? It showed the back of a man walking in a tree-lined country lane similar to this one with a small child on his shoulders and a guitar swung around his back. "Fishing in streams for pieces of dreams," it read.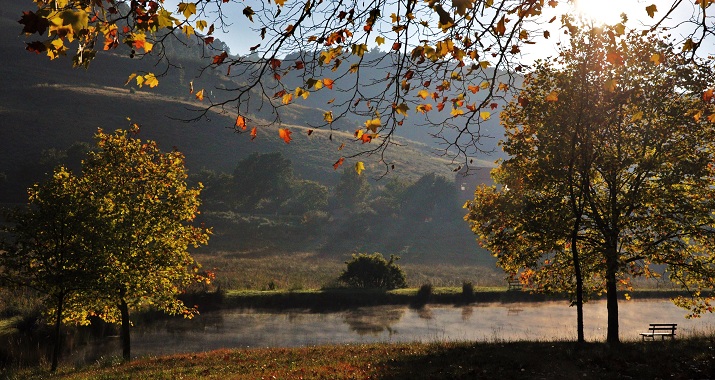 Dinner, fireplace and introspection
Back at the room we get a call to ask if we would like our fireplace lit after dinner. Nice.
After a lazy bubble bath, we make our way to the dining room The Flying Scotsman for dinner. Shadows flicker off the stone mason walls from the pastel candle light on the tables and somewhere soft jazz emanates from hidden speakers. A roaring fire blazes in the main fire place and soft murmuring voices and contented laughter of fellow diners complete the ambience. And as I suspected, the food is top notch.
For starters we have a choice of tomato and basil soup; Springbok Carpaccio or a pear, blue cheese and beetroot tartlet. Both myself and Louise opt for the soup and as I write this I'm reminded that I haven't asked for the recipe yet. It is YUMMY! Rack of lamb, oven roasted duck or rainbow trout is proffered for mains. I have the rack of lamb and it is cooked to perfection - juicy pink inside with a beautiful crust. Louise has the duck and declares it equally spectacular. There is also a vegetarian option at every meal. For desert we tuck into the mind-numbingly good chocolate pudding and I can't resist going into the kitchen and thanking chef Natasha and her staff myself.
After dinner we make ourselves at home in front of our fire with a glass of red wine. Lightning strikes the hills in the distance, the rain following shortly as the rolling delicate sound of thunder provides the final cap on a perfect day.
Due to unforeseen circumstances we unfortunately have to leave the next morning but not before a lovely breakfast and chat with wonderfully scintillating general manager Kate. "Wait!" she says as I make my way to the car where Louise is already waiting. She comes back five minutes later with two snack packs she had quickly made up for us for the road. And therein lays the charm of Walkerson Hotel and its people.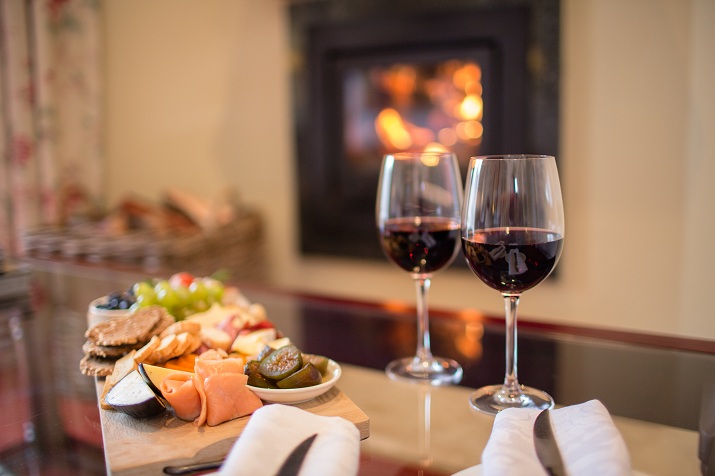 Contact: https://www.walkersons.co.za/
Getting there:
Air China outbound flights to Johannesburg in South Africa operate on Tuesdays, Thursdays and Sundays, with return services from Johannesburg offered on Mondays, Wednesdays and Fridays.
Flights will departs from Beijing at 23:15 Beijing time, and arrive in Johannesburg at 7:35 local time on the following day. The inbound flight departs from Johannesburg at 11:50 local time and arrives in Beijing at 7:30 Beijing time.
Go to: http://www.airchina.com.cn/en/
From Johannesburg the easiest way to Walkerson is by renting a car or transfer company at the airport.