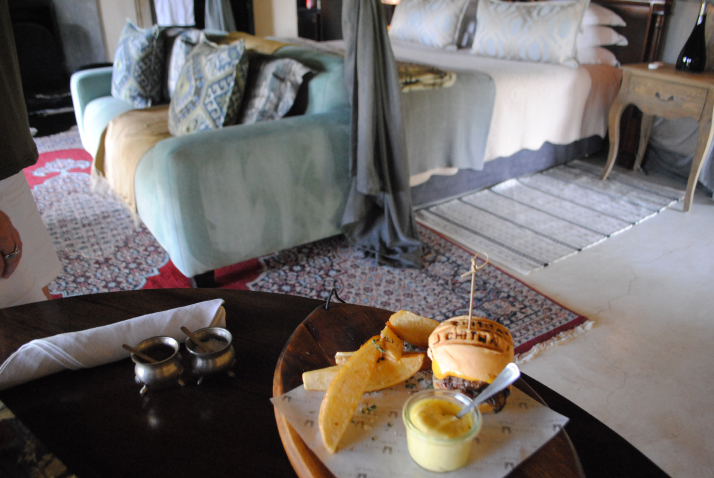 There is magic in Africa and one of her alchemy elements can certainly be found in the Sabi Sand Game Reserve, situated in the southwest corner of the world-renowned Kruger National Park in South Africa. Consisting of 65,000 hectares, it is the most prestigious game reserve in the country and is famous for incredible leopard sightings. With no fences between the farms (or, for that matter, between them and the Kruger Park), animals, including the Big-Five, wander across vast stretches of grazing land as they did years and years ago.
And this is my destination on this fine, hot morning in the middle of summer.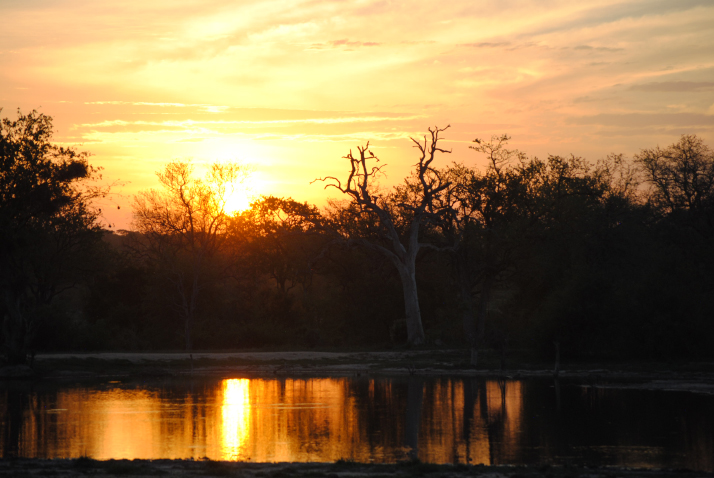 A unique 20-minute airside transfer connects guests onward to the doorstep of your safari destination on Airlink's Lodge Link service to the Ngala, Ulusaba, Arathusa, Londolozi and Phinda airstrips. Guests also have the freedom to enjoy a short open safari vehicle transfer from the Phinda, Ngala, Ulusaba and Arathusa Airstrips to adjoining private game lodges in the reserve.
We fly at just above 5,000 feet (1,524 meters) and spot elephants, buffalo and giraffe from the air, the foreign tourists excitedly gesticulating and I smile. We land at the Aratusha airstrip, literary having spent 10 minutes in the air. My game ranger Surprise picks me up at the airstrip and he amuses me with stories on the short drive to the lodge. I am later to learn first-hand the full scope of this man's incredible love and knowledge of the environment and its inhabitants. Add his droll sense of humor and understanding of people and it's no wonder he's become a ranger legend.
Breathtaking surroundings
The unassuming entrance to the internationally award-winning five-star Chitwa Chitwa Lodge belies the incredibly beautiful discovery beyond. Perched on the banks of one of the largest dams in the area, the lodge is simply breath-taking.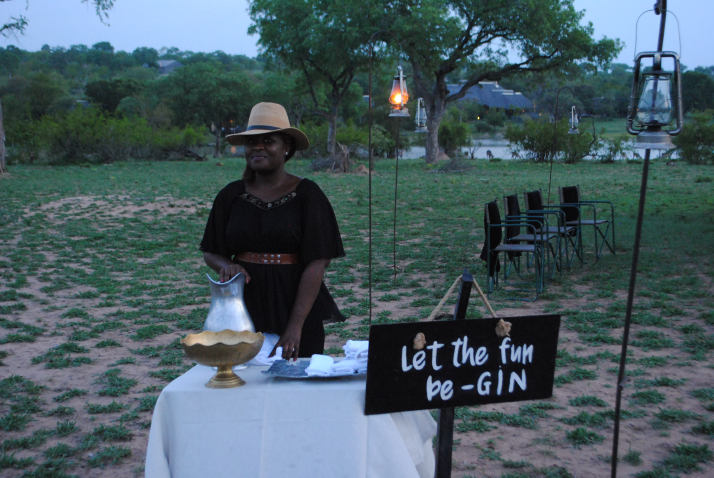 Manager Lindsey Jones warmly welcomes me with ice cold home-made ginger beer and accompanies me to my suite. My eyes are on stalks as she shows me around this pinnacle of luxury chalet. All suits are located on the river and while the décor and furnishings of the room are contemporary and wildly imaginative, it somehow manages to blend in perfectly with the wild outside. Each of the six individually decorated suites open onto a private lake-view deck with its own private plunge pool, framed by a spacious timber deck that overlooks the nearby water - a popular drinking hole for the wealth of wildlife. The luxury suites are very spacious, varying from 130 to 180 square meters, and can accommodate up to two extra beds for children under the age of 12. All the Chitwa Chitwa suites include a bath-tub, indoor and outdoor shower, fireplace, minibar, fan, hairdryer, tea coffee making facility and an iPod docking station. Since I've missed lunch, Lindsey suggests the cheeseburger with home-made bun and it arrives in my room within minutes. My impression of the burger is the same as that of the suite - outrageously delicious.
Breath caught again, I join the other guests for high tea before setting off on the afternoon game drive with Surprise. Marketing manager and son of the owners, Matthew Brink, finds me and after a quick chat we get going. The searing 42-degree heat beats down as we drive through the sprawling bush but luckily my attention is diverted from this slight discomfort when we come upon a pride of lions with cubs, barely ten minutes into the drive. "This is the stick pride," Surprise informs us. "The matriarch lost the tip of her tail so now it looks like a stick." We watch them for ages as Surprise tells us about the behavior and quirks of lions.
Pizza in the wild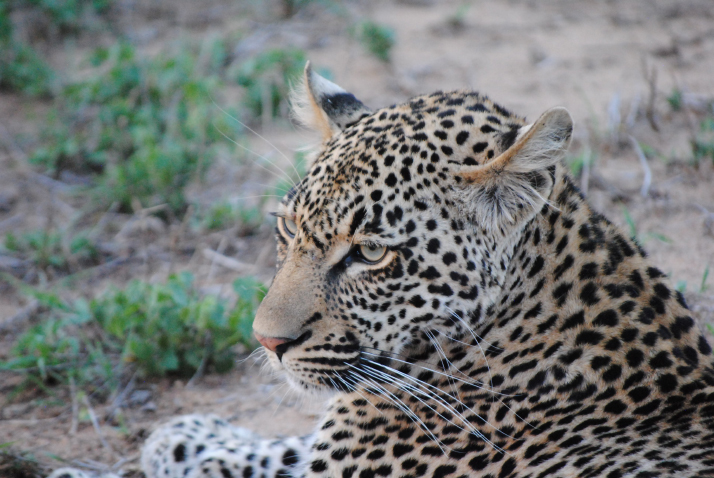 We travel further and Surprise stops at the river. He gets off with our tracker in search of more lions. "You have to be careful at the rivers. This is where you meet your good and bad friends. Please stay put, we won't be long. If you hear me screaming, take a video," he says. No luck, so we drive and only about another two km further we come across two female lions, indolently lying in the road with their playful cubs hopping about. A while later we also come across six male buffalos in a bad mood; they are known as "dagga boys" in the local parlance. Again Surprise explains the behavior of the animals in bewitching detail. And not only is he possessed of exhaustive knowledge of the beasts of the veld – he knows the flora and birdlife inside out as well. Antelope like Nyala, Water buck and of course impala all make an appearance along our drive and we are even treated to some bush pornography when we stop to watch two tortoises mate. I photograph the incredible sunset over a waterhole when we see a herd of elephant, again with little ones in tow. "Time for pizza!" announces Surprise as if it was the most normal thing in the world and sure enough, we drive up to a food truck, serving among other snacks, pizza. In the middle of nowhere. This is our sundowner stop and the conversion of a Landover into a food truck, replete with artisanal gin and other cocktails, must be the most original sundowner experience I have ever had. "This is the only type of gin trap that should ever be allowed in the bush," I muse to my fellow guests, much to their mirth. Smiling waiters serve us and glass of wine in hand I stare mesmerized at the "super" moon slowly ascending into the clear sky as dusk slowly settles on the bush.
Back at the lodge Lindsey joins me for dinner on the deck, which has been transformed into a beautiful, ambient al fresco wonderland aided by candles and low lighting. The gazillion stars shine brightly above and the sultry African night breathes deeply with the rhythm of the universe.
Chef Oscar's marvelous dishes include tomato and fennel soup for starters, as well as a prawn cocktail, and for mains we feast on Karoo lamb chops and slow-roasted duck. The vegetarian option is spinach and feta gnocchi. The cheesecake dessert takes me straight to heaven. As ever, the service from the warm, smiling staff is impeccable and faultless. The evening is marked by much merriment and Lindsey is a fantastic host, sharing fascinating and hilarious stories of her adventures in Africa.
I flop into my humungous bed much later and slide into a deep slumber as soon as my head hits the bespoke pillows.
Elephants at breakfast
I forgo the early morning drive the following day in favor of savoring my resplendent surrounds. I leisurely make my way to breakfast on the deck, overlooking the dam. Apart from the hot breakfast made to order, unique and yummy morsels are on offer including things like home-made honey butter and pinotage pistachio preserve. I gaze across the dam in reverie. An elephant reflects my mood as he unhurriedly ambles along the water on the other side. Then another one comes into view. And another. Soon everyone at breakfast is treated to the sight of a herd of about 40 elephants moving along right across the dam from us.
I decamp to my suite and carry on watching the elephants from my splash pool. They have by now made their way to the front of my deck. Never have I seen this many, this close. They happily chomp on the succulent grass and merrily splash themselves with water. One lone bull trails moodily behind and is chased off by the matriarch about three times with a huge trumpeting racket. A lone hippo adds to the chorus with his distinctive "ho ho ho." I watch this spectacle in utter amazement for about the next hour until they all finally move out of sight. A couple of crocodiles also enter stage left, just for good measure. This, right here, is what you come to Africa for and why you always come back again.
I have a long nap after a scrumptious lunch of fish cakes and wake up with a start, just in time to make the game drive.
The drive delivers yet more thrills and spills as we find ourselves in the middle of, and within touching distance of, yet another herd of elephants but they are all calm and obviously tolerant of the human creatures. Still, my heart beats nearly out of my chest.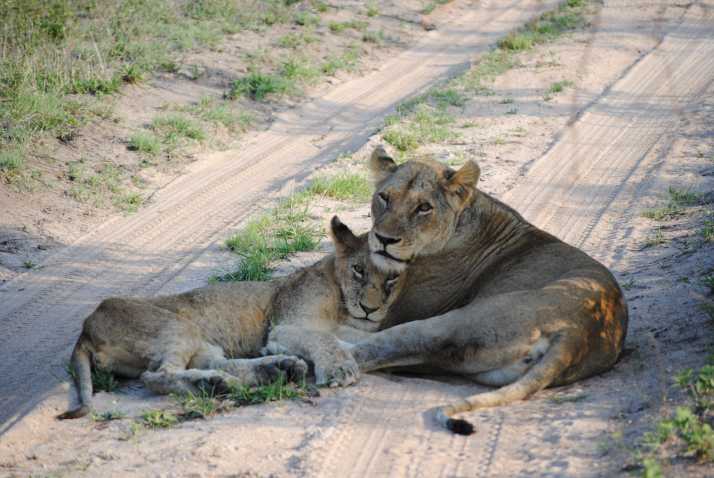 Later we drive past a male lion, fast asleep next to the road, about three meters away. We then go off-road to find one of the most endangered and fascinating predators of the bush - the African wild dog. After searching for about 15 minutes, Surprise's sharp eyes spot about eight of them lying in a riverbed and we drive around to watch them as they make their way into the road where they casually continue their afternoon naps, completely ignoring us. "They catch and eat their pray while it is still alive," says Surprise. A chill runs down my spine as one of them yawns, exposing rows of razor sharp teeth. We are so close that we can hear them breathe and almost smell their breath...
On the way back to the lodge, luck befalls us in the form of the sight of a lone leopard. Again this most beautiful creature ignores our presence totally and in fact makes herself at home at the back of the vehicle, lying down, contemplating her dinner. We drive on and past Elvis the hippo - as Surprise has named him - rolling over in his waterhole and the sight is too cute for words!
Another spectacular, blazing vermillion sunset is the backdrop to our sundowner stop and I push the melancholy thought of having to go home tomorrow deep, deep down.
Dinner is hosted in the boma and we feast on cauliflower soup, Eland venison, and chicken curry with all the trimmings, home-made "boerewors" or sausage, polenta and onion and tomato sauce. Surprise joins us for dinner and has me in stiches with his many hilarious anecdotes.
The next morning after breakfast I pack my suitcase with a heavy heart.
I watch a family of warthogs cavort in the mud in front of my suite as well as impala, gingerly drinking, constantly on the look-out for crocodiles. Then the haunting cry of a fish eagle, the quintessential sound of Africa, echoes far into the distance like a farewell song and I am sharply reminded of the words of Italian novelist and filmmaker Francesca Marciano: "Why is it you can never hope to describe the emotion Africa creates? You are lifted. Out of whatever pit, unbound from whatever tie, released from whatever fear. You are lifted and you see it all from above."
Newsflash
In conjunction with Rhino Africa, the Chitwa Chitwa owners have recently opened the much anticipated Silvan Lodge, about a half an hour's drive from Chitwa. By all accounts, the lodge is mind-blowing and we hope to bring you an exclusive review of the lodge in the not-too distant future.
Chitwa Chitwa Contact:
Telephone Number: +27 13 744 0876
Fax Number: +27 13 744 3748
E-Mail Address: reservations@chitwa.co.za
Getting there: Air China outbound flights to Johannesburg in South Africa operate on Tuesdays, Thursdays and Sundays, with return services from Johannesburg offered on Mondays, Wednesdays and Fridays. Flights will departs from Beijing at 23:15 Beijing time, and arrive in Johannesburg at 7:35 local time on the following day. The inbound flight departs from Johannesburg at 11:50 local time and arrives in Beijing at 7:30 Beijing time. From Johannesburg there are daily flights Skukuza and Nelspruit with Airlink. Contact them at: Tel. +27 11 451 7300 / 0105903170 Fax. +27 11 451 7367 Email. info@flyairlink.com Customer Care Email. customercare@flyairlink.com