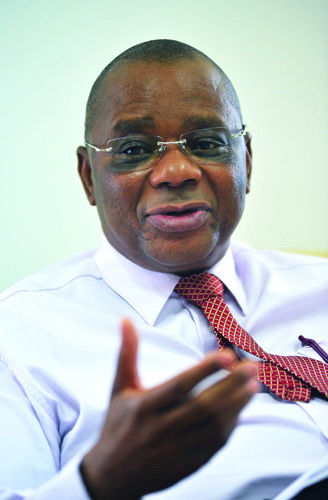 Sasara Chasala George, Botswana's Ambassador to China (WEI YAO)
Botswana's Ambassador to China, Sasara Chasala George, said that the half century of Chinese medical workers working in African countries is one of the most typical examples of Sino-African cooperation. A beneficiary of this aid program, Botswana has been receiving Chinese doctors for decades. It hosted the Fourth International Roundtable on China-Africa Health Collaboration, at which future health cooperation was discussed. To celebrate the 50th anniversary of the initiation of China's foreign medical aid program, Ambassador George sat down with ChinAfrica magazine to share his views on the program.
ChinAfrica: This year marks the 50th anniversary of China sending its first medical team to Africa in 1963. How has Botswana benefited from the China-Africa health partnership in the past 50 years? Please give some examples.
Sasara Chasala George: Let me start of by congratulating and commending the Government of the People's Republic of China for its continued support in assisting and contributing to the development of Africa. This assistance emanates from the long standing relations between China and Africa. Indeed, Botswana has benefited massively from the assistance and expertise of Chinese medical doctors.
Since the commencement of cooperation between the two countries 30 years ago, Botswana has received a total of 318 health workers from China. Recently, in January 2012, another 45 doctors from China were recruited by the Ministry of Health to undertake employment at government hospitals in Botswana. I am proud to say without hesitation that we do have professional Chinese doctors at our various hospitals in Botswana, and I am convinced that they will transfer their medical expertise to locals.
Additionally, from June 27 to July 1, 2011, a team of ophthalmologists from China successfully performed about 200 cataract operations as part of the "Hope of Light Cataract Project." Botswana also received a donation of ophthalmic equipment and consumables worth BWP1,492,488 ($172,382) from China during the same period.
Just recently, in May 2013, through the support of the Chongqing Municipal Government, Chongqing Jinshan Science and Technology Co. donated medical equipment worth $500,000 to one of the major referral hospitals in Botswana, the Princess Marina Hospital, which is located in the capital. We are very happy and grateful for this assistance.
What impact does public health have on African countries' social and economic development? 
I always regard health as a key component of a country's socio-economic development. A country's economic success is highly driven by the availability of healthy human manpower. Needless to say, if the country has healthy human resources to implement initiatives, success is a given.
Most African countries, including Botswana, aspire to have accessible and necessary health infrastructure so as to improve the health of families and communities. Public health, however, is still a challenge for many African countries. We therefore need partners, like China, to assist in this regard. There are still areas which do not have access to medical facilities like clinics and hospitals, let alone health personnel. Africa needs partners, such as China, in undertaking joint research in order to seek ways to curb, detect and control infectious diseases in the continent. 
Health investment is a key ingredient for poverty eradication and economic growth and development, as well as for ensuring positive progress toward achieving the Millennium Development Goals. Through the coordination of health initiatives, sharing and drawing on other countries' health development experiences and resources, China-Africa health collaboration is bound to achieve positive outcomes. 
Compared with other countries, what are the unique features of China's medical assistance to Botswana? 
We don't know about other countries, but the uniqueness of those doctors working in Botswana is that they are highly specialized.
What I like most about the Chinese aid doctors is their willingness to work in the remote areas in Botswana. The warm and kind spirit of Chinese doctors makes it even easier for the locals to freely interact with them. 
Apart from sending medical teams, building hospitals and providing medicine and medical equipment, what other areas of health cooperation do you think China and Botswana can enter into? 
Though the two countries have engaged in mutually beneficial cooperation in the health sector, I strongly believe that China and Botswana need to vigorously pursue and undertake joint medical research and arrange medical and health personnel exchanges. I believe that the transfer of skills and knowledge is key in enhancing a mutually beneficial relationship.
Having student and lecturer exchanges at various health institutions can also assist in enhancing this cooperation. We also wish to see China's private sector invest in health fields in Africa.
What are your expectations for the future of this health partnership?
I believe communication is the key to every form of relationship. My expectation is that our collaboration will continue to grow in strength and accrue mutually beneficial outcomes through joint research.  
I hope to see more and more young Batswanans trained as medical doctors in medical institutions in China. I also wish to see medical companies from both countries forming joint ventures in the health sector.
The Fourth International Roundtable on China-Africa Health Collaboration, held in Gaborone, Botswana this past May, concluded with the release of the Gaborone Communiqué. What do you think of the achievements of this roundtable?
Botswana was privileged to host the Fourth International Roundtable on China-Africa Health Collaboration, which was aimed at facilitating continued dialogue on Africa-China health cooperation, particularly as this was the very first time that an African country had the opportunity to host the roundtable. 
The objective of hosting the roundtable conference was to further pave the way for the sharing of experiences and lessons learned, as well as to identify opportunities for strengthened cooperation in the future.
The conference managed to successfully come up with seven pointers, which I strongly believe shall further serve to shape and enhance China-Africa health cooperation so that it can reach even greater heights.
The seven pointers place much emphasis on dialogue, which is the key to any type of meaningful and strategic partnership. The communiqué also emphasized capacity building and encouraged Africa's Associations of Pharmaceutical Manufacturers and Distributors and the China Chamber of Commerce for the Import and Export of Medicines and Health Products (CCCMHPIE), to explore areas for joint ventures.
I am hopeful that these initiatives shall further serve to advance Africa's development. 
What are your expectations for the coming Ministerial Forum on China-Africa Health Development which will be held in Beijing this August?
The deliberate move by the Chinese Government to devise a strategy aimed at intensifying China-Africa cooperation through the FOCAC (Forum on China-Africa Cooperation) framework is a welcome development. 
As we approach the upcoming Ministerial Forum on China-Africa Health Development in August, it is my wish and desire that the ministers shall consider and implement the good recommendations of the Fourth International Roundtable on China Africa Health Collaboration to promote meaningful collaboration rooted on win-win basis.