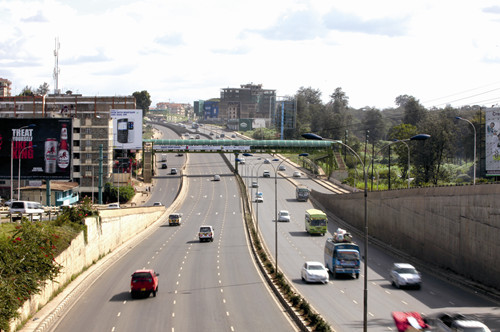 Nairobi-Thika Superhighway
Kenya's first mega thoroughfare, the Nairobi-Thika Superhighway, was completed just two years ago. The $360-million project was constructed by Chinese companies, with funding in part provided by the African Development Fund, the Kenyan Government and the Export-Import Bank of China. The journey that took commuters two hours struggling through the traffic between Nairobi and Thika town takes 20 minutes today. 
Chinese investment now permeates almost every industry in Kenya. The Kenya Investment Authority (KenInvest), a statutory body established in 2004 through an act of parliament, estimates there are about 40,000 Chinese living in Kenya, either as traders or employees of the more than 400 Chinese companies operating in the country.
Many of these companies are in the primary sectors of Kenya's economy: construction, manufacturing, hospitality and other service sub-sectors. On the surface, many observers see business operations in Kenya as being successful and without challenges. However, a study published in January indicates "serious challenges" that Chinese investors think should be tackled to improve the business environment.

Investment obstacles 
The research was conducted by the Sino Africa Center of Excellence (SACE) Foundation, an initiative that promotes exchange of knowledge between China and Africa. The SACE Foundation, set up in 2013, is a Chinese-funded organization with its headquarters in Mauritius, but with operational links in Kenya and South Africa. The research report, Business Perception Index (BPI) - Kenya, shows that most company managers interviewed (68 percent) rated corruption as a "significant obstacle" to doing business in Kenya. This was followed by crime and safety concerns (63 percent), as well as the difficulties in obtaining work permits (42 percent). 

In total, 184 companies with at least 50-percent Chinese shareholding were polled, with 75 of them responding to the survey and naming these issues as serious obstacles to doing business. It is the first BPI survey specifically aimed at understanding Chinese companies operating in Kenya.

"Most Kenya-based Chinese companies experienced harassment by local government functionaries. They are also anxious about the socio-political environment in the country," said SACE Foundation Project Manager Lu Jinghao during the launch of the report in Nairobi.
"It is important to note that safety issues are also a major concern, with many Chinese companies susceptible to theft, robbery, vandalism and on-site arson compared to general companies in Kenya."
The SACE Foundation did a company-level descriptive survey between February and June 2014, focusing on four major categories: the legal environment, workforce, operational facilities and the sociopolitical environment.
The index was then tabulated based on the companies' perception of the degree of significance in these categories.The report indicates these companies singled out the Kenya Revenue Authority and municipal authorities as making corrupt demands.
The Chinese companies told researchers that officials asked them to pay bribes or offer gifts whenever cases of non-compliance with the tax system were identified.

"The depth of corruption could be more serious since some Chinese companies were unwilling to speak against the government to avoid getting into trouble," the report said.
The bribes, the companies said, were mostly demanded when investors sought to register a business, get licenses, and obtain taxpayers' identification numbers.

Of these obstacles, "business registration poses minimal barriers to Chinese companies because it can be dealt with by spending a small amount of money on either hiring a professional or tipping government functionaries to speed up the process," the report added.

Impact on all investors
Although this study is the first of its kind, it has significant impact on the way African countries should improve their ease of doing business, generally for investors from across the globe. A new report by a team of experts from the African Union (AU) and the UN Economic Commission for Africa, chaired by former South African President Thabo Mbeki, lists corruption as a wound through which most of Africa's wealth bleeds, affecting service delivery.

Released during the 24th AU Summit in Addis Ababa in January, the Mbeki-led high-level panel report argued that African governments must put in place policies to seal loopholes through which government functionaries get away with money in corrupt deals which, in turn, drives off investors.
China is now Africa's single largest trading partner, largest financier of infrastructure, and the largest lender to African countries, according to World Bank figures. In Kenya, the Chinese are putting up an 800-km railway line that would run from the coastal city of Mombasa in the west through Nairobi into neighboring countries.

Yet in Kenya, the tax rate was found to be higher than the African average, while withholding tax was seen as normal. The Mbeki-led report found that while the average value-added tax in Africa was 14.7 percent, Kenya levies 16 percent. Kenya also levies 2 percentage points higher corporate tax when the continental average is 28.6 percent.

Finding solutions
"These findings will help us work on areas investors say are discouraging. As a government, we have already initiated other programs to make doing business easier," KenInvest Managing Director Dr. Moses Ikiara told ChinAfrica. KenInvest works with other government departments to improve the business environment in Kenya. In 2013, the government introduced centers offering quick services in business and company registration. It also launched a system where applicants can submit a business name via mobile phone, pay for it and get results in three days, down from the usual 32 days.

In October, Kenya launched the Business Environment Delivery Unit for research to improve the business climate for investors. Some of these programs could have led to the country's rise on the World Economic Forum ranking on the Global Competitiveness Index, where it moved up 16 positions to 90th from 106th in 2012. 

"Obviously, these changes will take some time for us to see their fruits, but the government is keen on creating a conducive environment for investors," Dr. Ikiara added.

Adan Mohamed, Kenyan Cabinet Secretary for Ministry of Industrialization and Enterprise Development, said the current reforms will make it difficult for anyone to demand a bribe for services.
"There are reforms the government has undertaken in the past 12 months. We are slowly seeing an improved business climate but more needs to be done," Mohamed told ChinAfrica. "Kenya is becoming a leading investment destination and it is our commitment to remain as responsive as possible."
The SACE Foundation is expected to conduct another survey on Kenya this May, before moving to other African countries to obtain a better understanding of Chinese investors' sentiments on the continent.
The findings are expected to help buttress African governments' business policies.
(Reporting from Kenya)