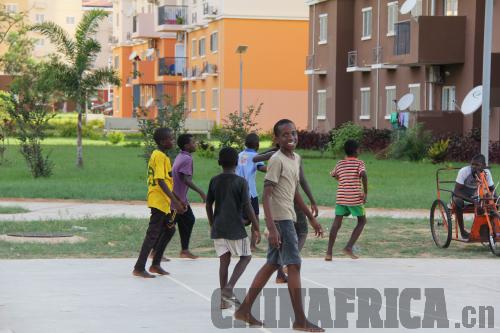 Children enjoy the pleasant surroundings in Kilamba Kiaxi city
A four-hour commute through gridlocked downtown Luanda used to be the most frustrating part of Alexandre's daily life. But now the resident of the new city project named Kilamba Kiaxi, located some 30 km south of Angola's capital Luanda, is enjoying the peace and order of a well-planned satellite city.
"With complete infrastructure and public utilities, there is not much worry about electricity or water [supply disruptions] that often happen in downtown Luanda," he told ChinAfrica. There are no congestions and Alexandre also has the convenience of sending his children to schools in the city.
Modern city
Dubbed the "new city," Kilamba Kiaxi is the country's flagship urbanization project, a residential development built on a once isolated open field. The apartment buildings, painted blue, green and yellow, are flanked by landscaped lawns and wide boulevards. People meet in the newly built parks and football fields for rest and exercise after work and school. It is poles apart from overcrowded Luanda's traffic-choked streets and chaotic bustle.
Luanda was originally designed to accommodate 350,000 people, but is now home to an estimated 6.5 million, accounting for about one-third of the country's population. And many of these people live in impoverished conditions.
Angola suffered a civil war for 27 years. The violence forced many to leave their homes and flock to the capital for safety. After peace resumed in 2002, people continued leaving the countryside and going to the city for opportunities. This urbanization resulted in a housing problem, with few people having decent accommodation and access to basic facilities like electricity and water.
To deal with the crisis and promote socio-economic development, in 2008 the Angolan Government decided to build 1 million homes as part of a national social housing project to rebuild Luanda. A satellite city was also planned in the Kilamba Kiaxi District, one of the six urban districts making up the Luanda Municipality.
With an investment of $10 billion, the 54-square-km new city is designed to house up to 500,000 people. The project is divided into three phases. The first phase, undertaken by China International Trust and Investment Corp. (CITIC) Construction, a subsidiary of the state-owned CITIC Group, and 29 other Chinese enterprises, was completed in 2012 after four years' construction at a reported cost of $3.5 billion. It is the largest Chinese-built housing project on the continent so far.
Covering an area of 8.8 square km, the first phase of the new city offers 710 apartment buildings, eight high schools, nine primary schools and 24 nurseries. It also boasts 400 km of new roads, two transformer stations, shops, parks, churches, and police and gas stations. Then there are business and communication facilities, drainage and waste water treatment plants and other supporting facilities - a totally new integrated urban grid.
"The first phase of Kilamba Kiaxi offers 20,000 apartments," Mu Changchun, Director of Executive Office, CITIC Construction's African regional division, told ChinAfrica. "The occupancy rate is over 90 percent. The second phase, with hospitals, malls and large-scale cultural centers, will be launched soon."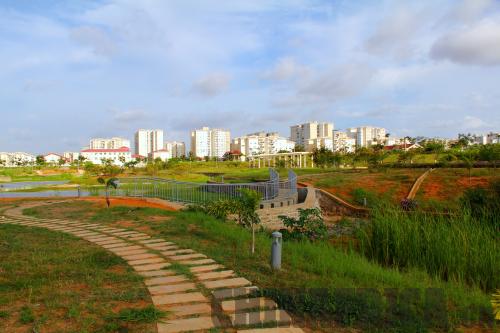 Kilamba Kiaxi is Angola's flagship urbanization project
Reconstruction model
To many residents, their new homes in Kilamba Kiaxi have brought them the peace and stability they were looking for. Antonio Luvualu de Carvalho, a professor of international relations at Angola's University Lusiada, has bought an apartment in the new city. He said the construction of Kilamba Kiaxi has an important stabilizing role, promoting economic development and improving living standards in Angola's post-war reconstruction.
Celina is a 40-year-old cook whose family moved to the city in February 2014. She said they had been living in a rented apartment near the airport, which cost them $1,000 a month. Then a new government policy provided them a lifeline. It allowed them to buy their three-room apartment by paying $400 a month for 15 years. Such good housing provides a genuine family environment, she said. The South African Institute of International Affairs (SAIIA) said in its April 2014 policy report that prices will range from $70,000 for a two-bedroom house to $180,000 for a four-bedroom, generally 20 percent lower than average housing prices in downtown Luanda.
Angolan President Jose Eduardo dos Santos had inspected Kilamba Kiaxi on several occasions while it was under construction. He lauded it as a jewel in the crown of post-war reconstruction, saying it could serve as a model for rebuilding the rest of the country. As a successful social housing model, the city has attracted dozens of heads of state for exploratory visits, including Chinese President Xi Jinping. On his visit to Angola in November 2010, Xi, then China's Vice President, had toured the construction site.
Wu Zhixin, chief engineer of CITIC Construction's African regional division, said the design - that of a modern livable city - is based on a combination of China's 30-year experience in urban construction and Angola's on-the-ground situation.  
Creating jobs
During construction, Chinese contractors faced some problems. The biggest challenge was the dearth of building material supplies. Liu Guigen, President of CITIC Construction's African regional division, said they needed about 5 tons of steel bars, 1.2 million tons of cement, 2.2 tons of sand, 2.3 tons of cobblestones and other materials. To solve this, CITIC invested in 14 local businesses and workshops to produce the necessary materials and equipment and established a series of supporting industries.
The housing project also created job opportunities for local laborers. In the past four years, CITIC had employed 55,000 Angolan workers. At present, more than 15,000 Angolans are working on CITIC's projects in southern Africa, accounting for more than half of the company's total workforce in the area. CITIC is also engaged in the construction of 13 new cities in nine provinces throughout Angola.
(Reporting from Angola)