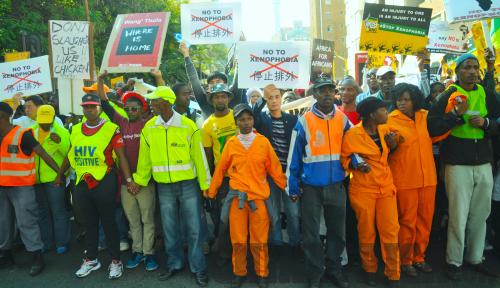 South Africans and foreigners march through downtown Johannesburg to denounce xenophobia
Migrant labor, both foreign and local, has played and continues to play an important role in the economic development and industrialization of nations such as the United States, Germany, the United Kingdom and more recently, China. As the economic hegemon of the region, South Africa thus shares a similar fate with countries in Western Europe and North America. It has become the destination of migrants in search for economic opportunities and a better life.
However, the dreams and fortunes of numerous migrants were shattered as violent anti-foreigner protests flared up in the low-income neighborhoods of KwaZulu-Natal and Gauteng provinces recently. Foreign shop owners and street vendors were attacked, their wares looted and their shops burned down. Strikingly, this rage was directed toward immigrants from fellow African and even neighboring countries such as Mozambique, Zimbabwe, Ethiopia, Malawi, Nigeria and Somalia.
A sense of déjà vu
For South Africa - the self-proclaimed Rainbow Nation proud of being a tolerant and diverse society - the attacks are a bit of a déjà-vu experience. In 2008, assaults on resident Africans left more than 60 people dead and resulted in the destruction of their property and livelihoods. The current spate of attacks has claimed at least seven lives. Despite the public outcry and consternation over the 2008 violence, it seems that South Africa's collective memory is suffering from Alzheimer's Disease. It took weeks for the government to condemn the attacks and take measures to get the situation under control. Only the deployment of massive contingents of law enforcement personnel and the mobilization of the South African National Defense Force restored calm in the affected areas this time around.
The attacks coincide with the deterioration of economic conditions in South Africa. Unable to provide a reliable supply of electricity, Eskom, the local electricity supplier, for example, resorted to scheduled power cuts, crippling manufacturing and other sectors. The delay in the commissioning of much-needed power stations and leadership squabbles in Eskom and other state-owned enterprises have increased the risk of a sovereign downgrade by global rating agencies. This, together with uneasy labor-employer relations, a weakening local currency that continues to push up inflation, a lethargic growth environment (2-percent GDP growth for 2015 is an optimistic forecast), slow infrastructure investment as well as inadequate educational outputs, continues to see South Africa's deterioration as an international competitive investment destination and springboard to the region.
This lackluster economic performance is directly related to the failure to provide employment opportunities for some 8 million people who are currently without jobs. Without more people working, it will be impossible to address South Africa's poverty problem and its notoriously high level of inequality.
Frustration fuels violence
Against this backdrop, the prospects for millions of poor households to improve their living conditions and to find work have moved into the distance and aggravated frustration. The bleak outlook for those excluded from the mainstream economy and dependent on the informal sector to eke out a living has created an environment in which populist ideas find a fertile breeding ground. The presence of foreign shop owners and traders competing for scarce resources and opportunities in townships and impoverished neighborhoods has made foreigners easy targets. "Foreigners steal our jobs" has become the blanket excuse and justification for xenophobic attacks, looting and even murder. Arguably, attacks on foreigners seem to have become some form of a release valve for the pent-up rage resulting from unaddressed socio-economic problems domestically.
It is therefore no surprise that a labor dispute at a supermarket in Durban involving the replacement of South African staff with immigrants, coupled with populist remarks by Goodwill Zwelithini, king of the Zulu ethnic group, suggesting that foreigners need to pack their belongings and leave South Africa, is said to have triggered the latest xenophobic attacks.
In light of the violence, civil society organizations in Ghana, Malawi, Nigeria, Zambia and Zimbabwe have called for boycotts of South African brands, products and services. While South African politicians and officials seem to be beating around the bush and shifting blame to others, South African civil society and corporates are trying to perform damage control.
Potential Africa backlash
This has all taken place in an Africa becoming an increasingly important trading partner for "S.A. Inc." In 2014, African economies received close to one third of South African exports, making the continent the second most important export market after Asia, and an important importer of South African value-added goods. In 2012, South Africa became Africa's largest internal investor. This comes as South African companies such as SABMiller, MTN, Shoprite, MultiChoice and Standard Bank are heavily invested in Africa and are betting on the continent for future growth. MTN, Africa's largest mobile operator, generates more than one third of its annual revenues from Nigeria alone. While African merchandise sales account for only 16 percent of Shoprite's annual sales, the pan-African retailer relies strongly on its markets outside South Africa for future growth. Shoprite's merchandise sales in Africa grew close to 27 percent between 2013 and 2014 - much stronger than the 7-percent growth of South African sales during the same period. Given the importance of the African continent to some of South Africa's commercial heavyweights, it is understandable that these firms are concerned about the xenophobic attacks. The potential backlash on the often arrogant image South African firms are seen to have on the continent can impact the future prospects of South African business in the region.
Politicians and captains of industry never get tired of preaching the merits of regional integration and how it will enable the regional expansion of South African businesses. But how does one lobby for a united Africa with integrated markets when there is hatred toward fellow Africans persisting in one's own country? It then sounds ironic when South African politicians, who struggle to contain violence against fellow Africans, call for stronger regional integration. Whether they like it or not, South Africa's leadership and citizens need to understand that as the most advanced economy on the continent, South Africa will remain the destination of choice for African migrants in the medium term. Similarly, South African corporates will continue to look north of the Limpopo for more vibrant growth opportunities. Only by ensuring that the domestic environment is conducive to growth, thus reducing pressure on scarce resources, and by providing opportunities for both locals and foreigners, will South Africa be able to avoid future xenophobic attacks.
(Simon Schaefer is a senior analyst and Hannah Edinger a director at Frontier Advisory)