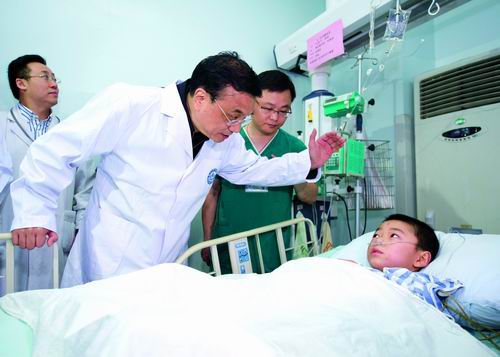 China
Take Care
Chinese Premier Li Keqiang (left) visits Zhang Ke, an eight-year-old boy in West China Hospital in Chengdu, Sichuan Province on April 21. The boy was seriously injured in a 7.0-magnitude earthquake that struck Lushan County in Ya'an City, Sichuan on April 20, 2013. Li instructed the hospital to arrange psychological treatment for the seriously injured, especially minors.
Though emergency measures have been taken throughout the country to help people in disaster-hit areas, as of April 22, the quake has left 188 people dead and 25 missing, according to an announcement by the Ministry of Civil Affairs. Altogether 11,950 were injured and more than 1.72 million people were affected.
South Africa
Cheap Drug for AIDS
South Africa broke new ground in April when Health Minister Aaron Motsoaledi announced the launch of an affordable three-in-one anti-retroviral drug for AIDS patients. The new once-a-day pill will cost only 89 rand ($10) per month and may be the cheapest AIDS treatment yet. South Africa has the world's largest population of HIV-positive patients; 5.6 million people are HIV-positive, and 1.9 million people are on treatment. The new drug will be initially available to HIV-positive pregnant women and breastfeeding mothers, tuberculosis and HIV-positive patients and new anti-retroviral patients.
Libya 
New Stadium
Libya plans to build a new stadium capable of seating 60,000 to host the 2017 African Nations Cup finals, according to Sports Minister Abdussalam Guaila. The announcement follows fast on the heels of a March decision by the Confederation of African Football to again allow continental club competition matches to be hosted in the North African country. The country had originally been scheduled to host the 2013 Nations Cup but the uncertain security situation in the country caused it to swap with South Africa, which had planned to host the 2017 event. Hosting the Nations Cup will allow Libya to demonstrate that life has returned to normal in the country thereby encouraging investors, said Guaila.
Botswana 
High Speed Internet
The Botswanan Government plans to roll out a high speed and reliable network to increase the population's broadband Internet access from the current 10 percent. Minister of Transport and Communications Nonofo Molefhi said that the national broadband strategy will be formulated through a holistic and coordinated approach by the government. He said the development of a broadband strategy is important as Botswana strives to be among the competitive countries using the technology to revolutionize the way services are delivered.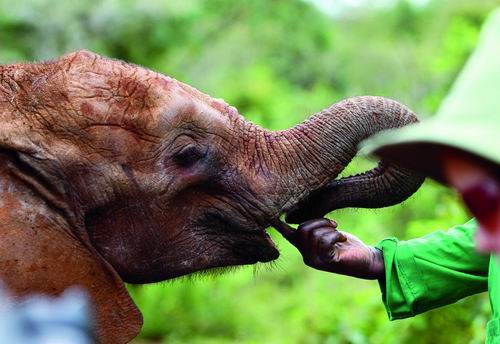 Kenya
Anti-Poaching Technology
The Kenya Wildlife Service (KWS) has announced plans to deploy a free software tool for rangers. The tool was specifically designed to fight an increase in poaching in the East African nation. The new Spatial Monitoring and Reporting Tool (SMART 1.0) was developed by a group of conservation organizations. "The SMART tool and framework will help our staff make better informed decisions for protecting and managing our rich biodiversity, particularly at this time of increasing poaching pressure," said Benson Okita-Ouma, KWS senior scientist in charge of Kenya's Rhino Program.
South Africa
Updating Railway Service 
South African train communication services will be equipped with advanced Chinese digital radio systems for signaling, according to the South African railway system. "The leading global information and communication technology solution provider Huawei has been chosen to supply us with the GSM-R (Global System for Mobile Communications-Railway) after competitive bidding and procurement," said Lucky Montana, CEO of the Passenger Rail Agency of South Africa, the country's state-owned enterprise responsible for most passenger rail service. The GSM-R is an international wireless standard for railway communication and applications, and is used for communication between trains and railway regulation control centers.