Congo
A Library From China
People in the Republic of the Congo will be able to watch as many as 341 documentaries and feature films at Ngouabi University's newly-launched China Library, allowing them to explore modern China's dynamic society. Dubbed in English and French, the videos capture traditional and modern China. Artistic quality is guaranteed as the videos include some of the country's best productions, such as hit documentary A Bite of China, and award-winning films Forever Enthralled (2008) and Mountain Patrol (2004). In addition to the videos, the China Library will also feature a collection of more than 10,000 books, which will be regularly updated.
China
Boston Bombing
One Chinese graduate was killed and another severely injured in the Boston Marathon bombings on April 15. Chinese President Xi Jinping expressed his concerns and condolences to the victims. The Chinese Ministry of Foreign Affairs and Consulate General in New York dispatched a work team to Boston immediately after the tragedy. The team visited the injured, contacted the two families and will continue to provide all necessary assistance. The injured student is now in stable condition after undergoing surgery.
China
OD Regulation
To better protect workers' rights, China has revised a regulation on occupational diseases that ensures more efficient diagnostic procedures. The revised Regulation on Diagnosing and Authenticating Occupational Diseases allows employees to choose from more health institutions for identifying occupational diseases and simplifies the procedures for official confirmation of diagnoses. Meanwhile, the regulation stipulates that employers are responsible for presenting evidence on occupational disease-related conflicts with their employees, and local industrial safety watchdogs should assist employees in urging employers to do so. The revised regulation took effect on April 10.
China
Antarctic Research
Site inspections are already underway in preparation for the building of two new Chinese research stations in Antarctica, which will be built by 2015, the State Oceanic Administration (SOA) said. A summer station that can be used from December to March will be set up between the existing Zhongshan and Kunlun stations to provide replenishment and other logistical support, the SOA said. The station will be used to study geology, glaciers, geomagnetism and atmospheric science in Antarctica.
China
Boao Forum for Africa
Boao Forum for Asia (BFA) Annual Conference 2013 took place in Boao, Hainan Province from April 6-8. This year a special session on Africa was established for the first time at the most prestigious forum for leaders in Asia and other continents. The session, entitled Africa: Rise of an Ancient Continent, attracted many prominent attendees, including Zambian President Michael Chilufya Sata. Participants discussed the prospects and ways of promoting cooperation between Asia and Africa in trade, poverty alleviation, economic development and global security.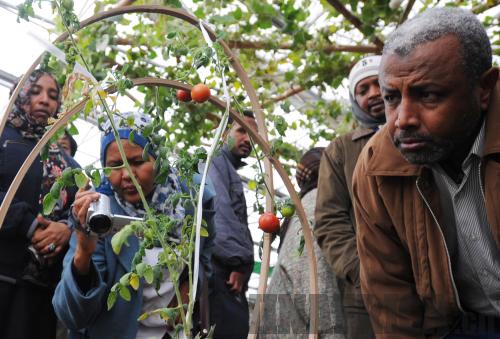 Numbers
$230 million
World Bank loan to Morocco to modernize the country's agriculture
7.7%
China's Q1 GDP growth
10%
Year-on-year jump of China's exports in March
8.6%
Nigeria's CPI growth year on year in March 2013
5.65 %
Annual growth in inbound FDI in March in China