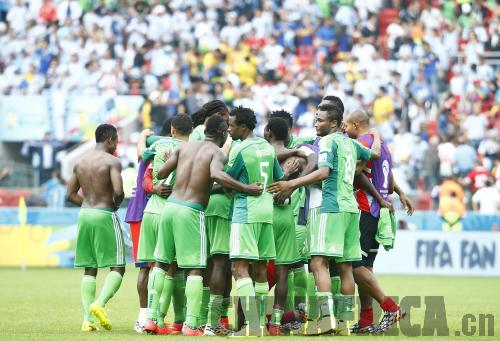 Nigeria
Sport Court
Nigeria will establish a Court of Arbitration for Sports (CAS) to avoid taking sports cases to regular courts, Tammy Danagogo, Minister of Sports of Nigeria, said on August 15. The sports chief said that a lot of Nigerians are involved in sports, particularly football, and certainly there must be disagreement. Without a CAS, people always go to regular court when disagreement arises. "Now, we want to stem that trend by making sure that a viable CAS is set up," he added. The CAS is an institute independent of any sports organization, which provides services in order to facilitate the settlement of sports-related disputes.
According to the MOE, the database will help track students who migrate with their parents and those left at home by parents who travel for jobs, providing better care and services to such children. The MOE said the database would also improve management of student aid programs, including nutrition enhancement and financial subsidies. The database will also help education authorities to rein in school enrollment irregularities.
China
Youth Olympic Games
Sixteen-year-old weightlifter Jiang Huihua won China's first gold medal of the Second Summer Youth Olympic Games (YOG) in the women's 48 kg class event at the Nanjing International Expo Center on August 18.
The current YOG opened in Nanjing, capital of east China's Jiangsu Province on August 16, with more than 3,700 athletes from around the world taking part. During the 13-day sports competition, the young athletes aged between 15 and 18 competed in 222 events in 28 sports.
The Youth Olympics was proposed by then International Olympic Committee President Jacques Rogge in 2001 with the goals including encouraging young people around the world to practice sport and raising awareness of and encouraging them to adopt the values of Olympism. Singapore held the inaugural Youth Olympics in 2010.
Uganda
Population Census
Uganda started a 10-day national population and housing census on August 28, aimed at gathering accurate statistics for planning and improving social service delivery in the country.
"The census is good for evidence-based planning. It will help in formulating, monitoring and evaluating the national programs," said President Yoweri Museveni in earlier August, urging Ugandans to participate in the exercise. "It is important to ensure efficient human resource development, and monitor and evaluate social change. We shall know how much medicine we need to send to hospitals and how many schools we should have," he added. A total of 80,000 enumerators have been recruited to carry out the national exercise in 60,000 villages across the country.
South Africa
Life Expectancy
Life expectancy at birth in South Africa has climbed to 61 years from an estimated 52 years in 2005, a newly released report said.
According to Statistics South Africa's latest Mid-Year Population Estimates report, the rise in life expectancy can be attributed to the fact that the number of AIDS related deaths is estimated to have decreased from 363,910 in 2005 (51 percent of all deaths) to 171,733 deaths in 2014 (31 percent of all deaths) due to the increased rollout of anti-retroviral therapy. The infant mortality rate has fallen from an estimated 58 deaths per 1,000 live births in 2002 to 34 deaths per 1,000 live births in 2014, which also contributes to the rise in life expectancy.
Angola
Railway Construction
China Railway Construction, one of the country's largest construction companies, finished building a massive railway line in Angola in mid-August and plans to put into operation this year. The 1,344-km Benguela railway is the second-longest railroad built by Chinese overseas, shorter only than the 1,860-km Tanzania-Zambia Railway built in the 1970s. It will be the longest andfastest track in Angola. It connects Angola's Atlantic port of Lobito to the eastern border town of Luau, and further to the rail network of Southeast Africa's Democratic Republic of the Congo. The 67-station railway has a design speed of 90 km per hour, involving a total investment of $1.83 billion, according to the company.
China and Kenya
Anti-Poaching Equipment
The Chinese Embassy in Kenya donated anti-poaching equipment worth $20,000 on August 15 to strengthen the fight against wildlife crimes in Kenya. Liu Xianfa, Chinese Ambassador to Kenya, said the donation is part of the long-term commitment from Beijing to revitalize the war against poaching in Kenya.
The state-of-the-art equipment included telescopes to track movements of poachers. The East African Wildlife Society and the Mara Conservation Fund received the equipment on behalf of the four wildlife conservancies in Kenya.
China
Student ID
China will assign every student in primary and secondary schools with an exclusive ID number, said the nation's education authority in early August. The Ministry of Education (MOE) ordered provincial education authorities to work with public security authorities to verify student IDs in their jurisdictions, giving priority to those about to graduate from primary, junior and senior high schools. After rescinding incorrect IDs, the MOE will collate data into a nationwide database.
China
Tibet Development Forum
Scholars, politicians and journalists from China and abroad wrapped up an international forum on the development of Tibet in the autonomous region's capital Lhasa. The two-day forum, from August 12 to 13, was the first of its kind held in China, with its three predecessors taking place in Italy, Austria and Greece.
This year's event draw around 100 delegates from 33 countries and regions including China, Britain, India and the United States, to pool collective experience on Tibet's sustainable development, cultural heritage preservation and environmental protection. Themed on the development of Tibet, the forum reached the Lhasa Consensus, highlighting key discussion points for a range of issues including religious freedom, sustainable development and environmental conservation in Tibet.
China
Home for Orphans
China will build more child welfare institutions in county-level regions as part of its efforts to improve welfare networks, according to the Ministry of Civil Affairs. The ministry plans to establish homes in counties with a population of more than 500,000 people to provide 35,000 more new beds for orphans in the next three to five years.
"Most orphans live in the countryside, but child welfare agencies are available in only a minority of county-level regions, and about 80 percent of beds for orphans are provided in cities," said Dou Yupei, Vice Minister of Civil Affairs.
The authorities began to address the supply-demand imbalance a few years ago with 463 institutions built from 2006 to 2010. According to statistics by the ministry, China had 549,000 orphans by the end of 2013, with only 98,000 beds available for them.
China
Underground Lab
China has begun expanding the world's deepest underground lab in southwestern Sichuan Province, where scientists have been conducting experiments on mysterious "dark matter." The second-phase construction of the Jinping Underground Laboratory, located at 2,400 meters under the surface of Jinping Hydropower Station, was launched on August 1 by Tsinghua University and Yalong River Hydropower Development Co.
The construction, scheduled for completion by the end of 2015, will increase the lab's space to 120,000 cubic meters, allowing more experiments to be carried out simultaneously, the university said. The Jinping Laboratory, opened in December 2010, provides a clean space for scientists to pursue the invisible substance known as dark matter, a hypothesized form of matter particle that does not reflect or emit electromagnetic radiation.