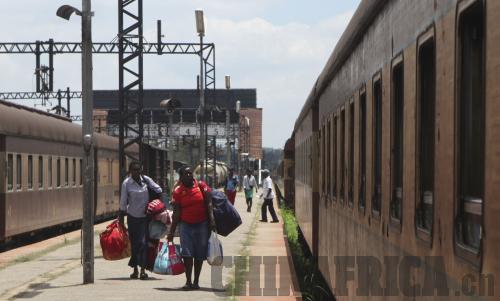 China-Nigeria
Rail Contract
China and Nigeria signed a contract in December 2014 to build a railway along the latter's coast, China Railway Construction Corp. (CRCC) said. The $11.97-billion contract is China's single largest overseas contract project. The 22-stop railway stretching over 1,402 km will link Nigeria's economic capital Lagos in the west with Calabar in the east. Trains will travel at a top speed of 120 km per hour. "It is a mutually beneficial project," said CRCC Chairman Meng Fengchao. It will create up to 200,000 local jobs. Up to 30,000 fixed jobs may also be created when the railway is operational. 
Uganda
Anti-graft Strategy
Uganda launched a five-year strategy to combat the evil that is hemorrhaging state resources - corruption. Simon Lokodo, Minister of State for Ethics and Integrity, said the government is committed to fighting the malaise. Although Uganda is said to have the best laws and policies to curb corruption, implementation has proved a challenge. The obstacles include low public participation in fighting corruption, limited capacity of the institutions mandated to fight corruption and inadequate coordination among anti-corruption institutions. Transparency International's 2014 Corruption Perceptions Index saw Uganda drop 10 places from 130th in 2013, scoring 26 out of a possible 100.
Kenya   
Advanced 4G Network
Kenya's largest mobile phone firm Safaricom officially launched its long-term evolution (LTE) advanced fourth-generation (4G) network aimed at improving communication and data services in the East African nation. Safaricom CEO Bob Collymore said the LTE advanced network will offer peak speeds of up to 100 megabits per second, more than twice the speed offered by third-generation technology. The LTE advanced is the most advanced version of the 4G system for mobile networks and promises significant improvements in data speed and latency while maintaining superior voice quality.
Benin
Fight against HIV/AIDS
Benin has adopted a national strategic plan to fight HIV/AIDS and sexually transmitted infections from 2015 to 2017. According to the National Committee for the Fight Against AIDS, the plan focuses on "universal access to prevention, cares, treatment and the support provided pursuant to human rights in Benin." Its implementation will help reduce new HIV-related infections by over 30 percent by 2017. It will reduce new HIV infections among at-risk children by over 75 percent and among people living with HIV by over 50 percent. The plan is to effectively implement measures for free access to antiretroviral drugs, screening tests and biological monitoring tests for people living with HIV.
South Africa
Chinese Embassy Adopts Rhinos
The Chinese Embassy in South Africa donated $8,900 to the National Zoological Gardens of South Africa (NZG) in December, adopting five rhinos and two red bears. "The Chinese Embassy is proud to enter into cooperation with the NZG in order to help our South African friends protect wildlife," said Yang Yirui, the Chargé d'Affaires, at a ceremony held at NZG Tshwane. NZG Managing Director Clifford Nxomani said the NZG, which receives 600,000 visitors annually, has the mandate of educating people on biodiversity. He added that the NZG, with the support of the embassy, would develop educational resources on African biodiversity that could be used by Chinese zoos.
China
Keep Steady Growth
China will strive to keep its economic growth and policies steady in 2015 and adapt to the "new normal" of slower speed but higher quality, said a statement released after the Central Economic Work Conference in Beijing from December 9 to 11. The economic policy meeting saw Chinese leaders and senior officials sketch out the government's economic policies and priorities for 2015. Continuity and stability are key to macroeconomic policies. "Proactive fiscal policy should be stronger and prudent monetary policy should be more focused on striking a proper balance between being tight and loose," according to the statement. To reach the 2015 goals, it vowed to accelerate reforms, further open up the economy, encourage innovation, upgrade agriculture, enhance regional integration, and improve the lives of people with low incomes.
China
Easier E-Banking
China's electronic banking service needs to provide easier access for people with disabilities, according to guidelines issued jointly by the China Disabled Persons' Federation and China Banking Association on December 1, 2014. The guidelines urge banks to promote accessibility primarily for three kinds of people using e-banking services such as phone and online banking. For visually impaired users, e-banking should provide a specially designed shortcut touch menu, active ID recognition and easy verification codes. For deaf customers, the primary concern will be offering multiple visual facilities and instant short message services. For people with physical disabilities, banks should establish a long-distance self-service system allowing them to open accounts from home. Traditionally, banks require customers to be physically present to open an account.
China
Fruitful Cooperation
The 10th Senior Officials' Meeting of the Forum on China-Africa Cooperation (FOCAC) held in South Africa's Pretoria in December 2014 was fruitful, Chinese Vice Foreign Minister Zhang Ming said. Zhang said the FOCAC has traversed an extraordinary path since its inception in 2000. With the expansion of the FOCAC family and improvement of its mechanisms, it has guided and driven the development of China-Africa relations across the continent. Trade between China and Africa has grown rapidly, reaching $210 billion in 2013, 21 times higher than that in 2000. Bilateral investment and financing cooperation has moved forward fast. China's total direct investment in Africa is nearly $30 billion. Chinese commercial loans to Africa have exceeded $50 billion, with cooperation projects all over the continent.
China
Pollution Law
China's State Council has passed an amended draft of air pollution prevention and control law which emphasizes addressing the sources, total discharge and density of pollutants. The draft specifies punishment for violations such as over-discharging pollutants and fabricating monitoring data. It has provisions for coordinated control of multiple pollutants from coal burning, industries, automobiles and dust, as well as launching coordinated regional actions in key areas. The draft will be submitted to the Standing Committee of the National People's Congress for deliberation after further amendments.
China
Services for Elderly
The Ministry of Civil Affairs (MCA) posted a circular on its website in December 2014, encouraging foreign investment in China's elderly care services. Foreign investors can set up senior care institutes for profit independently or in cooperation with Chinese enterprises, said the circular, jointly issued by the MCA and the Ministry of Commerce. Interested foreign investors should apply to provincial bodies in charge of commercial affairs. Foreign investors are also welcome to take part in the reform of state-run care organizations and to develop high-quality institute chains. They will enjoy the same favorable tax policies and administration fee deduction policies as domestic investors.