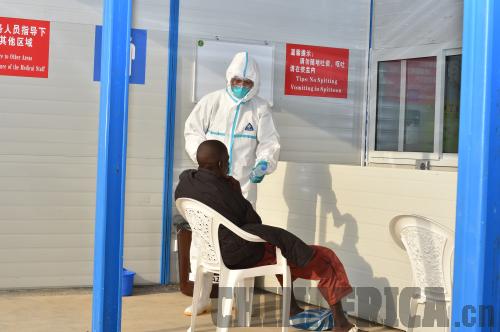 China-Africa
China Cures Ebola Patients
The China-financed Ebola treatment unit in Liberia discharged three Ebola patients in January after they all tested negative for the virus twice, the Chinese Foreign Ministry said. The three patients, two women and a seven-year-old boy, were found to be infected with the virus in December 2014, spokesman Hong Lei said, adding that after 20 days of treatment at the Chinese facility all three were given the all-clear. Hong said China is willing to work closely with the international community to help the West African countries struggling to contain the Ebola epidemic. 
Africa
Arable Land Damaged
A report published recently by the Montpellier Panel, an eminent group of agriculture, ecology and trade experts from Africa and Europe, says about 65 percent of Africa's arable land is too damaged to sustain viable food production. The report, titled No Ordinary Matter: Conserving, Restoring and Enhancing Africa's Soil, notes that Africa suffers from the triple threat of land degradation, poor yields and a growing population. The Montpellier Panel has recommended that African governments and donors invest in land and soil management, and create incentives particularly on secure land rights to encourage the care and adequate management of farmland.
Angola
Import Quota 
Angola is imposing a quota system on the import of food, beverages, eggs and vegetables in 2015 as the country is now able to produce over 60 percent of these products, reported the official news agency Angop. The imports would be gradually reduced and the quota would be jointly determined by executive decrees of the ministries of trade, finance, transport, industry, agriculture, fisheries and the National Bank of Angola, according to the first national seminar on import quotas implementation held in Luanda. The participants said that domestic production was a priority to diversify the country's oil-dependent economy and the import of farm products should complement the home production deficit.
Kenya
Empower Youth
Kenyan President Uhuru Kenyatta has launched a youth empowerment program. The project will be used to upgrade program Mukuru kwa Njenga, Korogocho and Mathare informal settlements in Nairobi County. "We are committed to ensuring equitable development in informal settlements and all other parts of the country," he said. Under the program, the government will engage 3,500 youths in each of the three settlements to be trained by National Youth Service personnel to sustain the settlements in the future.
South Africa
Curbing Power Outages
New technologies would be introduced to reduce power cuts in Johannesburg, South Africa's largest city. They include installing smart meters, which would enable efficient management of electricity consumption, said City Power, Johannesburg's electricity control center. This came after areas in the city experienced power outages as a result of power insufficiency in the country.
Ghana
Sports Lottery
Ghana's Ministry of Youth and Sports, in collaboration with the National Lottery Authority, the country's lottery industry regulator and monitor, launched the National Sports Lottery and a mobile platform in Accra recently. The new lottery seeks to raise revenue to fund sports promotion and development in Ghana. Mahama Ayariga, Minister of Youth and Sports, said Ghana abounded in sporting talents that needed necessary infrastructure, basic support and training to enable the country to increase its share of the global sports revenue.
China
Environment Protection
China will offer more support for non-governmental organizations (NGOs) to bring lawsuits against those who commit environmental violations, according to a judicial interpretation issued in January by the Supreme People's Court. The interpretation, which came into effect on January 7, says an NGO that protects public interests and carries out environmental protection activities qualifies for recognition as an "environmental protection NGO."
As of late September 2014, China had more than 700 environmental protection NGOs. The judicial interpretation said court charges should be reduced in public non-profit environmental litigation and be paid by the defendant if the plaintiff wins the lawsuit. Environmental protection NGOs can also sue violators across the country, regardless of their registration region.
China
Public Service Ads
China has set up a special fund worth more than 10 million yuan ($1.6 million) to support public service advertisements. Radio and TV programs, billboards and banners have long played a key role in promoting positive values and providing information on a range of topics, from furnace safety to giving up bus seats to the elderly. A total of 132 projects chosen from more than 500 applications have been covered by the fund, the State Administration of Press, Publication, Radio, Film and Television (SAPPRFT) said. Figures from the administration show central and local television groups made 16,000-plus public service advertisements under SAPPRFT as of November 2014, with a total air time of some 3 million minutes.
China
True Friend of Peace
Chinese Foreign Minister Wang Yi wrapped up his week-long Africa tour in January, visiting Kenya, Sudan, Cameroon, Equatorial Guinea and the Democratic Republic of the Congo. The visit was to strengthen mutually beneficial cooperation between China and African countries in areas such as politics, the economy and security. Africa hosts most of the developing countries, and China-Africa cooperation is an essential part of South-South cooperation, he said. "China is willing to transform the traditional friendship between China and Africa into impetus for common development, and to work with African countries to convert their potential in human and natural resources into economic strengths," he added.
China
Potato Cultivation
China is boosting potato cultivation to transform the crop into the country's fourth staple food after rice, wheat and corn, according to the Ministry of Agriculture. It is time for potatoes to become a staple food, given China's rapid urbanization, and they can diversify the dining table, said Wan Baorui, Director of China's State Food and Nutrition Consultant Committee. The potato has been grown for about 400 years in China and now covers 5 million hectares. It will expand to 10 million hectares in the future to safeguard the country's food supply, according to the ministry.