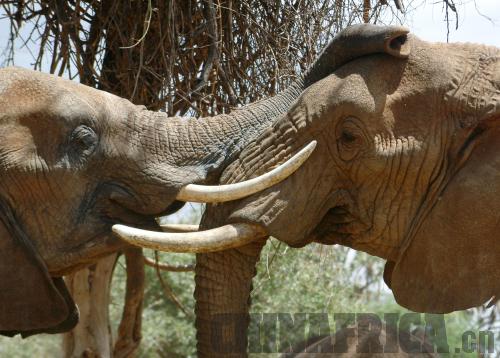 China and Africa
Protecting Elephants
The African Wildlife Foundation (AWF) has recently welcomed the move by the Chinese Government to impose a one-year ban on the import of African ivory carvings. The ban was announced by the China's State Forestry Administration on February 26, with an aim to protect African elephants. AWF CEO Patrick Bergin also called on China to consider an outright ban on all ivory trade in the country.
African countries are also showing strong determination to fight against elephant poaching and illegal trade. On March 20, Ethiopia burnt down about 6.1 tons of illegal tusks and ivory products during a ceremony at the Gulelle Botanic Gardens in its capital Addis Ababa. The items had been intercepted over the past 30 years in different parts of the country and at the Addis Ababa Bole International Airport while in transit.
Namibia
First Woman PM
Saara Kuugongelwa-Amadhila is Namibia's first prime minister. The former finance minister's new portfolio was announced by President Hage Geingob soon after he won the election. Geingob announced the appointment at a media briefing where he also announced the appointment of Veterans' Affairs Minister Nicky Iyambo as the country's new vice president, a newly created position. Foreign Minister Netumbo Ndaitwah has been appointed as the new deputy prime minister. Geingob stormed to a landslide victory in the national elections in November.
Kenya
Switch to E-Bids
Kenyan President Uhuru Kenyatta has directed government agencies to adopt the electronic procurement system to enhance transparency in how tenders are awarded on March 11. Kenyatta said government officials should immediately switch to the open process to reduce corruption and ensure transparency, as well as value for money for the services and goods procured by government entities. E-procurement is expected to introduce a new era in government procurement by ending the challenges the country experienced in the past due to a manual procurement process.
Botswana
Top Business Status
Botswana has been ranked among the global top 10 emerging markets for "most optimistic business communities" in the 2015 Grant Thornton International Business Report. The ranking comes despite the general fall in confidence worldwide and uncertainties weighing heavily on business growth prospects. The report said Botswana, the only African country in the list, ranked seventh with a business confidence of 54 percent. A total of 35 countries were surveyed in the index. 
Rwanda
SEZs to Draw Investors
Rwanda is wooing investors through building special economic zones (SEZs).
"We are planning to construct SEZs across the country where investors will have the opportunity to explore the untapped potentials in Rwanda," said Francois Kanimba, Rwandan Minister of Trade and Industry, adding that the country was ripe for investment especially in manufacturing, service industry, and tourism and hospitality.
The small East African nation has so far constructed the Kigali SEZ in capital Kigali. The SEZ was built in two phases in Gasabo District. The first phase occupies 98 hectares and the second phase 178 hectares. The government is planning a 134-hectare third phase.
According to the World Bank's Doing Business 2014 ranking, Rwanda was placed 46th out of 189 economies surveyed globally. It displayed improvement in obtaining construction permits, getting electricity and getting credit.
China
Business Reforms
China will continue to reform its business system to inject vitality into the market. This was stated by Zhang Mao, Minister of the State Administration for Industry and Commerce, at a press conference on the sidelines of the National People's Congress annual session held in March in Beijing. "China will also press ahead with the reform of integrating the business license, the certificate of organization code and the certificate of taxation registration into one certificate to ease the registration procedure for companies," Zhang said.
China
First Chinese Permanent Mission to AU
The first head of China's permanent mission to the African Union (AU), Kuang Weilin, presented his credentials to Nkosazana Dlamini-Zuma, AU Commission Chair, on March 13 at the AU headquarters in Ethiopian capital Addis Ababa.
"China is keen to deepen and strengthen cooperation with the AU in different sectors, including infrastructure, health, capacity building, peace and security, people-to-people exchanges, and investment," Kuang said. His mission, he added, would seek to strengthen the relationship and cooperation between China and Africa and implement the agreements between Chinese and African leaders.
Dlamini-Zuma said the mission marked a historic point in China-AU relations. "For the first time, we are going to have a dedicated mission that will look at cooperation and relations between the AU and the People's Republic of China," she said.
In January, the AU and China signed agreements on partnerships in major infrastructure projects. They included regional highways, railway networks, air transport and industrialization in Africa.
China
Settling Down
China plans to abolish its controversial temporary residence permit and push forward reform of the household registration system, according to a public security reform plan released recently. Permanent residence permits will replace temporary residence permits. Temporary residence permits have long been held by hundreds of millions of Chinese migrant workers, who have to apply for the permit before formally living and working in a new city. Observers say the system has led to instability and the temporary residence registry system is no longer suitable.
China
Better Pollution Control
China's Ministry of Science and Technology has said it is working on a five-year air pollution prevention and control project. The focus of air pollution control in China would shift from simply responding to heavy smog to a coordinated scheme to prevent both PM2.5 - airborne particles measuring less than 2.5 microns in diameter - and ozone. Air pollution monitoring and management practices will be shifted from city level to a regional scale. The project will be carried out till 2020.
China
Retirement Age Revision
China's pension fund will come under tremendous pressure to break even in coming years. The government therefore needs to gradually raise the retirement age to salvage the situation, said Yin Weimin, Minister of Human Resources and Social Security on March 10. Yin said the government will raise the official retirement age, which is as low as 50 for female workers in some sectors, but the policy changes will be phased through five years.
Africa
Reduce Traffic Fatality
The International Road Federation (IRF) has called for concerted efforts to reduce the high rate of traffic fatalities in Africa and achieve the UN goal of halving road traffic fatalities by 2020. Underlining the need for partnerships to improve the scenario, Kiran K. Kapila, IRF Chair, said road safety is challenging in Africa especially due to poor road and vehicle conditions. Driving after taking drugs or alcohol also contributes to mishaps.