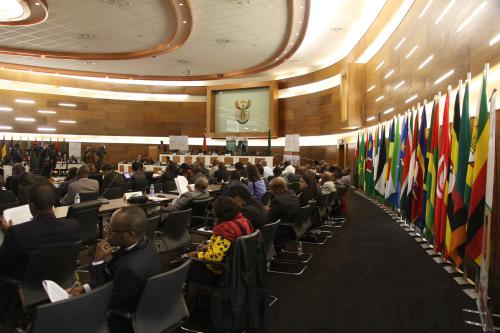 Africa
Continental FTA Talks
African Union (AU) leaders wrapped up their biannual summit after endorsing a 10-year implementation plan for the continent's long-term development vision.
Dubbed "Agenda 2063," the vision paints a desired picture of integrated, prosperous, and peaceful Africa. The first 10-year implementation plan is committed to facilitating free movements of goods, services, and people while calling for regional investments in value chains and for promoting made-in-Africa products. As a measure to tackle trade protectionism, the AU launched its Continental Free Trade Area (CFTA) negotiations. The AU has set 2017 as the year for the implementation of CFTA, under which African states are expected to reduce trade barriers among themselves by drastically reducing export and import duties and waiving visa requirements in some cases.
Africa
Healthcare Needs Dose of Money
The World Health Organization (WHO) has called on African governments to invest more to improve the quality of healthcare services. WHO Director for Africa Matshidiso Moeti said healthcare funding in Africa is still below the required threshold.
Both national governments and their partnering agencies should ensure the amount is increased. "Africa is facing challenges in dealing with communicable diseases, and in recent years, we have seen the emergence of non-communicable diseases. This requires improved healthcare systems. But unfortunately, healthcare systems are still under-funded in many countries," she remarked. The official said African governments should put in place guidelines and policies for using herbal medicines.
Somalia
Development Programs
Somalia had six new joint development programs across the country financed by the UN, EU and various other funders in June. The programs support the peace-building and the key items on the government's Vision 2016 agenda. Minister of Planning and International Cooperation Abdirahman Ali Aynte said that the programs are results driven and will focus on the state formation process, constitutional review, electoral support, rule of law, youth employment, and institutional capacity development. The initiatives are designed to build a stronger civil service at federal and state levels, provide thousands of jobs for Somali youth and aid in delivering more effective judicial services. They will also support the formation of new federal member states in the South and Central regions of Somalia, undertaking the review of the constitution, and building capacity of the country to deliver democratic electoral political processes.
Rwanda
Spur Job Creation
Rwanda will introduce an open-data strategy to stimulate job opportunities for young people. Open data is information made available by governments, businesses and other groups for anyone to read, use and share. "In [the] information- and knowledge-based economy that Rwanda is increasingly turning into, open data is a precious national resource and a strategic asset of the country," said Jean Philbert Nsengimana, Rwanda's Minister of Youth and Information and Communications Technology. The initiative, he added, is to increase transparency, accountability, equity and efficiency of governance.
South Africa
Visa Rules Hamper Film Industry
South Africa's fast-growing movie industry is hanging in the balance after the Department of Home Affairs introduced new visa and immigration regulations. The new travel regulations took effect in June, despite concerns that tourism could be hurt severely. As for the television and film industry, over 35,000 jobs are at stake now as actors can no longer apply for visas through agents but must do it themselves. Also, if a film production is delayed for more than three months, the visa cannot be extended or renewed in South Africa. In Cape Town, a film hub, the television and film industry is feeling the heat. The city has sought an appointment with the department to urge it to reconsider the new rules.
China
Human Rights Report
The Chinese Government has released a whitepaper detailing the progress made in human rights protection in 2014. "The tremendous achievements China has made in its human rights endeavors fully demonstrate that it is taking the correct path of human rights development that suits its national conditions," says the document, Progress in China's Human Rights in 2014, published by the State Council Information Office in June. It is China's 12th report on human rights since 1991. The nine chapters detail the progress made in protecting people's rights to development, democracy, impartial trial and clean environment. Work on the rights of women, children, senior citizens, ethnic minorities and people living with disability has also been detailed.
China
Better Social Service
The Ministry of Civil Affairs (MCA) and the Ministry of Finance have issued a guideline on the social assistance system. The MCA website said social assistance aims to help those at risk and the poor to attain social and economic empowerment. However, it cannot be sustained through government funding alone. A new model will be drafted and implemented by 2020 with the private sector's involvement. The guideline said those who need social assistance have to be understood better. Thus the assistance system has to be built from the grassroots with the support of professionals and recognized service providers.
China
Green Card for Talent
China is seeking to attract more talent from abroad by expanding the sectors whose foreign staff can apply for permanent residence permits. Foreigners employed in seven kinds of companies or institutions can now apply for a Chinese green card. These include national laboratories, engineering research centers, technology centers for state-accredited tech companies, and foreign-funded research and development centers. Applicants must be the equivalent of associate professors or associate fellows or have higher professional designations. Also, they must have been working in China for more than four years and have sound tax records, the Ministry of Public Security said. Foreigners with permanent residence permits will enjoy the same rights as Chinese citizens in areas such as investment, housing purchases and schooling.
China
Credit Score Website
A website with the credit history of a number of Chinese residents and firms was launched on June 1, the latest push in the effort to establish a credit system in China. The new website, creditchina.gov.cn, offers more than 1.13 million information items. These are data affecting a business or an individual's credit score, such as tax avoidance and failure to follow court rulings. The website is the result of collaboration between several departments - the State Administration of Taxation, Supreme People's Court, National Development and Reform Commission, and the China Securities Regulatory Commission.
China
Online Stores Regulated
China has launched a five-month campaign from July to regulate the online market and protect the rights and interests of online consumers and operators. The campaign targets fake and inferior products that have seen complaints from buyers and dealers, while cracking down on dishonest shopping websites, the State Administration for Industry and Commerce said.
It sees that online sellers have taken measures to register consumers' complaints and market rules like return policies are well implemented. A real-name registration system will start for online stores to prevent illegal trade activities and fake shopping sites.