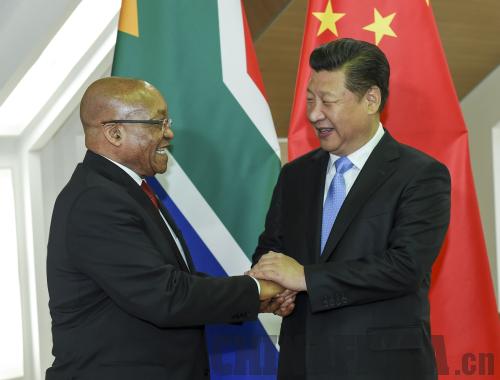 China-South Africa
Growing Cooperation
Chinese President Xi Jinping said China will work more closely with South Africa in a range of areas including marine economy, economic zones, energy and finance, so as to translate the bilateral friendship and political mutual trust into tangible cooperation results and better benefit both nations. Xi made the remarks when meeting with his South African counterpart Jacob Zuma on the sidelines of the BRICS (Brazil, Russia, India, China and South Africa) summit in the southwestern Russian city of Ufa in July, where he described China's relations with South Africa as "the best in history." The leaders agreed to cooperate more closely within the framework of BRICS and to enhance the group's positive influence on international affairs and better protect the common interests of emerging-market economies and developing countries. Zuma echoed Xi's proposal to strengthen cooperation and said the momentum of BRICS countries' development is unstoppable. Zuma said that South Africa wants to push forward cooperation in health care between African countries and China.
Kenya
TB Prevalence Survey
The Kenyan Ministry of Health launched a 10-month national survey to ascertain tuberculosis (TB) prevalence. Officials said the second tuberculosis survey in Kenya since independence will strengthen biomedical, policy and funding interventions for the fourth leading cause of deaths among adults. "The Kenya TB survey 2015-16 will help us obtain an accurate picture of the disease burden and inform establishment of targeted interventions to reduce new infections and deaths," said Nicholas Muraguri, Director of Medical Services. Kenya is ranked 15th among the 22 high TB-burden countries globally. Muraguri noted that TB is a leading public health challenge that is to blame for high mortality, poverty and social exclusion in the country.
Nigeria
Enhanced Payment System
Nigeria is committed to realizing a robust national payments system that would be nationally utilized and internationally recognized by 2020, said Dipo Fatokun, Director of Banking and Payments System of the Central Bank of Nigeria (CBN). The bank director said that the infrastructure for payments in Nigeria was undergoing a dramatic change led by the CBN initiatives such as Payment System Vision 2020. The Nigeria Inter-bank Settlement System had created world-class real time for direct debits and credits accordingly, Fatokun said. The director said the central bank would continue to promote and facilitate the development of efficient and effective systems for settlements of transactions in Nigeria through enhanced regulation and introduction of new products.
Rwanda
Law to Boost Investment
Rwanda has put in place a new investment law that seeks to increase investment in priority sectors of the country's economy. The law will see more investments channeled into the sectors such as energy, improved agriculture, tourism and manufacturing. Initially, the previous law, which has been in existence since 2005, was not adequately catering for the country's strategic sectors. But the new one is expected to extend generous incentives exclusively to investors in Rwanda's priority areas of investment. Yvette Umutoni, head of investment promotion at Rwanda Development Board, said the new investment law reduces corporate tax to 15 percent for priority sectorsfrom the current 30 percent.
China
National Security Law
China's top legislature adopted a new national security law on July 1, which highlighted cyber security and demanded the establishment of a coordinated and efficient crisis management system. A total of 155 lawmakers at a bimonthly session of the National People's Congress (NPC) Standing Committee voted on the legislation, 144 were in favor, and one abstained. The law included a cyberspace "sovereignty" clause, which covered assets and activities in space, the deep sea and polar regions. China's first national security law took effect in 1993 and primarily regulated the national security agencies, and their counterespionage work. It was renamed the Counterespionage Law in November 2014.
China-South Africa
RMB Clearing Bank
In July, the People's Bank of China, or China's central bank, authorized the Bank of China (BOC) to serve as the clearing bank for the RMB business in South Africa. The move expands the list of countries with direct access to trade in RMB. The authorization came after the central bank signed a memorandum of understanding (MOU) with its South African counterpart, the South African Reserve Bank (SARB), on July 7 to set up a yuan clearing system in the African country. RMB clearing business will be carried out by the BOC Johannesburg Branch. "Both central banks agreed to coordinate and cooperate on the supervision, oversight and clearing of RMB in South Africa and also to exchange information in order to facilitate the continuous improvement and development of bilateral trade," said Candice Jeffreys, Media Coordinator of the SARB. The MOU marks another important milestone through joint efforts to build capabilities in South Africa's financial markets to better serve bilateral trade, investment and financial flows between two sides, Jeffreys said.
China
Jobs for Disabled
Each Chinese county will have at least one institution offering employment assistance to the people living with mental or physical disabilities by 2020, the China Disabled Persons Federation (CDPF) said in July. These employment assistance institutions will help people with disabilities find jobs, according to the plan. These non-profit institutions will provide flexibility to workers in terms of working schedules, intensity, remuneration and contracts. The programs will be integrated into government procured services, the plan said. The institutions will enjoy favorable policies ranging from financial support, venues and facilities to social insurance for employees. By 2017, each city district should have one such institution.
China
First Aircraft Disassembly Plant
China's first aircraft disassembly plant, in northeast China's Heilongjiang Province, will start operation this year, the city government of Harbin said in July. Involving investment of $2 billion, the plant will become one of the world's biggest centers for the dismantling of retired civil aircraft, with a designed annual capacity of 50 aircraft, according to the city government. The plant will be operated by the China Aircraft Leasing Group Holding Ltd., which has purchased a 30-hectare plot near the city's airport for the plant. Launched in late 2014, the project aims to meet the rising demands from the country's booming aviation industry. Due to a lack of facilities, China sends retired aircraft to the United States to be dismantled.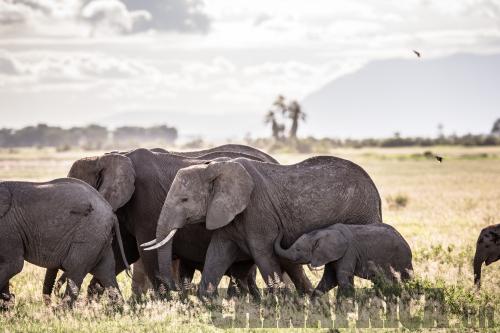 Tanzania
Anti-Poaching Awareness Campaign
The Tanzanian Government has launched a new campaign to inform the public about the severe poaching crisis currently ongoing in the East African nation. The campaign was also aimed at generating widespread support among civil society for the protection of elephants and other wildlife species. "Elephants are at the top of the 'wish list' for many tourists who come to this country, and tourism generates over 17 percent of our GDP," said Lazaro Nyalandu, Minister for Natural Resources and Tourism. The campaign will use television, radio, social media, newspapers and magazines, billboards and videos in public spaces in order to reach as many members of the public as possible, including the residents of remote rural villages.