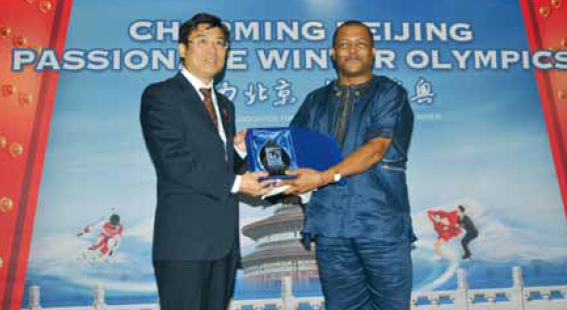 South Africa
Chinese Images and Dreams
Charming Beijing, Passionate Winter Olympics, a photo exhibition illustrating the Chinese capital's diversified landscape and cultural life as well as Beijingers' aspirations to host the 2022 Winter Olympics, was launched at the National Library of South Africa in administrative capital Tshwane (formerly known as Pretoria) on September 23.
The latest in a series of colorful events celebrating the Year of China in South Africa, the exhibition, co-hosted by the Beijing Association for Cultural Exchanges and Beijing Review, a leading Chinese news weekly with websites in five languages, comprised 64 photos printed on silk canvas.
The organizers also presented books in Chinese and English to the National Library of South Africa to enable readers to know more about Beijing and China. They included titles such as Xi Jinping: The Governance of China and Beijing International.
From South Africa the impressive exhibition moves on to Mauritius.
South Africa
CCB Branch Established  
China Construction Bank (CCB), one of the giants in China's commercial banking sector, opened a branch in Cape Town, South Africa on September 23. It is the second branch the bank has opened in the country. As a sub-branch of the Johannesburg Branch, the Cape Town branch will focus on corporate banking business, in commercial loans and deposits, trade financing and foreign exchange trading. CCB set up its first branch in Johannesburg in 2000.
Rwanda
New Int'l Flights
Rwanda's flag carrier RwandAir Express has recently announced plans to start several international flights to Europe and Asia, including China and India, by next year. The announcement came after the airline concluded an aircraft purchase agreement worth $160 million with the Eastern and Southern African Trade and Development Bank. Two new Airbuses have been designed to seat 244 to 268 passengers in a move to increase the frequency of several international flights by next year. Currently, there is fierce competition on the international air routes to the East African country.
South Africa
Stunning Fossil Finds
South African archeologists announced on September 10 a "groundbreaking fossil discovery of international importance." Fossils of human ancestors, including infants, children, adults and elderly individuals, were found in a chamber deep underground dubbed the Dinaledi Chamber - Chamber of Stars. The fossils were displayed for the first time during an international launch at the Maropeng, the visitor center of the Cradle of Humankind, a World Heritage Site, some 50 km northwest of Johannesburg.
China
No Driving Curbs
China's newly amended Law on the Prevention and Control of Air Pollution has dropped the clauses that allowed local governments to restrict or ban vehicles to fight air pollution. In the first draft of the amendment, local governments are given the right to restrict or ban vehicles in designated areas and during given times. After solicitation of public opinions, the clause has been excluded from the amendment, as some say it would restrict citizens' right to property.
The amendment, adopted by the Standing Committee of the National People's Congress, China's top legislature, in late August, will become effective on January 1, 2016.
Some of Chinese cities have been restricting the use of vehicles to curb pollution. In Beijing, vehicles are not allowed to ply one out of five weekdays.
China
Mission Moon
China is planning to land a lunar probe on the far side of moon, a Chinese lunar probe scientist said recently. The mission, to be carried out by Chang'e 4, an unmanned Chinese lunar exploration mission with a robotic lander and rover, is slated to launch before 2020. This was announced by Zou Yongliao, an official from the Moon Exploration Department under the Chinese Academy of Sciences, at a deep-space exploration forum in September. The far side or dark side of the moon, as it is more commonly called, is not visible from earth because of gravitational forces. According to Zou, the far side has a clean electromagnetic environment and is an ideal field for studying low radio frequencies. China plans to launch the Chang'e 5 lunar probe around 2017. It will be the last chapter in the country's three-step moon exploration program consisting of orbiting, landing and return.
China
Big Data Promotion
The State Council, China's cabinet, has recently issued guidelines to boost the development of big data. The action framework for promoting big data aims to forge a new model for social governance in five to 10 years, highlighting accurate management and multi-dimensional cooperation. It stipulates the formation of a trans-departmental data-sharing platform by the end of 2017 and a unified platform for governmental data before the end of 2018. This will give citizens access to public data resources, including credit, transport, public health, employment, education, finance and weather services. The guidelines say China should accelerate the opening up and sharing of government data to promote the integration of resources, improve governance, boost industrial innovation and foster new business patterns to support economic restructuring.
China
Military Observers' Training
The Ministry of National Defense hosted a three-week international training course for UN military observers in September. More than 40 military personnel, including Chinese instructors and foreign attaches from 22 countries, such as Australia, Denmark and the United States, participated in the training in Beijing. The sessions were oriented around UN peacekeeping missions and the courses covered a range of topics, including case analyses and simulation drills. There were combat exercises covering 14 themes, such as conflict mediation, field rescue, and kidnap and ransom response. The UN has more than 1,800 military observers deployed around the globe. China has sent 1,670 military observers since 1990 when it started participating in UN peacekeeping missions.
China
Linking WWII Museums
The International WWII (World War II) Museum Association was founded in Beijing in September to bring WWII museums in different countries closer and provide a platform for cooperation. Its member museums will share materials, hold joint exhibitions, and organize seminars and training. The association will celebrate important WWII anniversaries and campaigns for peace. It will also undertake research and champion the protection of wartime heritage, Vice Curator Li Zongyuan said. The association has 35 member museums from 11 countries, including China, Russia, the United States, Japan and South Korea, according to the Museum of the War of Chinese People's Resistance Against Japanese Aggression.