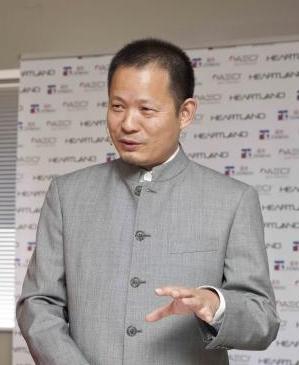 Dai Zhikang, founder and Chairman of the Zendai Group
A mini city that could rival the world's major financial centers is set to rise on Johannesburg's doorstep in the next 10 to 15 years. This follows chemical and explosives giant AECI's sale of 1,600 hectares of its Modderfontein surplus property assets in Gauteng, South Africa, to Chinese property developer Zendai in early November 2013.
Zendai, a company listed on the Hong Kong Stock Exchange, plans to build a massive infrastructure project on the land purchased for $100 million, transforming it into a financial center on par with Manhattan in New York, Lujiazui Finance and Trade Zone in Shanghai and Hong Kong's Central Financial District.
According to the plan, Zendai will develop seven key sections in the city - a finance and trade center, an industrial node, a conference and exhibition center, an African culture theme park, an education and training center, a sport and recreation center and a residential area.
Its development will include houses and apartments for about 33,000 families. Approximately 100,000 people could eventually live in the area while 100,000 could also work there. About 70 percent of the development will be targeted at the black middle class.
The company also has plans to develop 10 hotels and 10 shopping centers in the area and discussions are already underway to open a new Gautrain rail station in the vicinity.
To bring more cash flow to the development, the company will first launch construction of hotel and residential buildings. "We plan first to complete 3,000 houses and apartment units in three years," Dai Zhikang, founder and Chairman of the Zendai Group, told ChinAfrica. "The first batch of these can be expected to be completed in 2014."
AECI said that Shanghai Zendai is well placed to move forward with the project to the accelerated benefit of Gauteng and South Africa as a whole. Among these benefits are more job opportunities, sooner, according to AECI, which will retain about 1,300 hectares of land for the company's current and future operations.
Global ambitions
Established in 1993, Zendai is a private conglomerate engaged in finance, real estate and cultural sectors with assets totaling $4.9 billion. It has property projects in 12 major cities in China and has already completed more than 1 million square meters of property development. In 2011, the company began its first overseas property project in New Zealand, and the mini city outside Johannesburg is its second overseas property project and first transaction in Africa.
Zendai told Mail & Guardian Business that austerity measures in property purchase restrictions enforced by the Chinese Government in a bid to slow down rising property prices caused the company to look outside of its own country for growth.
"It's a move consistent with the company's longterm development plan and is an important step in its overseas development plan," said Dai, adding that this investment does not indicate that the company is turning its business focus overseas.
Dai said Africa's vast land area, rich resources and relatively lagging economic base placed it as ripe for investment. He saw South Africa as the economic center of Sub-Sahara Africa and Africa's growth path was in need of complete financial services.
"We perceive after careful studies that Modderfontein is to Johannesburg and South Africa what Lujiazui is to Shanghai and China two decades ago," Dai told ChinAfrica. Lujiazui Financial and Trade Zone, a financial district established in Shanghai in 1990, has helped push forward the growth in Shanghai and China as a whole.
Modderfontein was identified largely for its strategic location and size. Situated in the center of an economic triangle formed by downtown Johannesburg, Midrand and OR Tambo International Airport and close to the Sandton Central Business District, it has a high potential to become a gateway to a newly internationalized Johannesburg.
"New York City and Hong Kong represent the past century and the financial city in Modderfontein [South Africa] will represent development in the next 100 years," Dai said.
Jobs and tax revenue
The impact of this project on the local economy, tax revenues and job creation are all positive factors going forward. According to Dai, over the next 10 to 15 years, about $8 billion will be invested in the project and an estimated 12 million square meters of buildings will be constructed in the area. A recent economic impact study by the Bureau of Economic Research at Stellenbosch University indicates that direct and indirect benefit for the national economy could be $1.4 billion, with $100 million generated in local government rates and taxes.
According to the study, there is a capacity to create 22,000 jobs, 65 percent being in the semi-skilled and unskilled sector.
Dai estimates that more than 20,000 people will be needed in the developing and constructing process.
To develop the project, the company also needs a large number of professionals and inter-disciplinary talents. The recruitment information will be available on the company's web pages. Dai said he welcomes those who are interested in communicating with him on Sina Weibo (Chinese version of twitter) or through WeChat.
Vote of confidence
The Gauteng Provincial Government has given the Zendai investment thumbs-up, with Gauteng Premier Nomvula Mokonyane saying the property development is a vote of confidence in the Gauteng Province and South Africa as a whole.
"Shanghai Zendai is a highly respected company in the property development industry," said Ernie Lai King, head of Edward Nathan Sonnenberg (ENS) China practice. "Mr. Dai is a highly successful businessman and accomplished visionary with great experience in property development. I support his vision and plan." The ENS China practice, the largest Chinese business desk in the South African law firm, acted as lead legal advisor and project coordinator on the Zendai transaction.
"Opportunities always go along with challenges," said Dai when asked to comment on the investment environment in South Africa, which has been under a cloud recently in the wake of seemingly endless labor unrest. "Like any other countries in the world, South Africa has its own problems. But opportunities are just right beside problems. South Africa is one of the earliest countries to develop [in Africa] and is a leading economy in Africa. It is a consensus that as a BRICS member, the country will start a new round of development," said Dai, adding that Zendai is well set as an early investor in the country.
The Modderfontein project will serve as a stepping stone in Zendai's development in Africa. The company has intentions to invest in mining, agriculture, tourism and energy sectors in Mali, Tanzania and the Democratic Republic of the Congo, Dai told ChinAfrica.
Problems and risks
Regarding the risks of investing in Africa, Dai said high risks may also mean high returns. Investing overseas is fraught with political, legal, social, economic and especially exchange rate risks, which means investors need to be well informed and quick on their feet.
Lai King said the areas where Chinese investors needed the most expert advice in South Africa were related to language and cultural differences.
According to Lai King, to save costs, Chinese firms sometimes used inexperienced lawyers who offered poor advice leading to financial losses. Chinese firms also need to know more about local labor laws, mining laws, anti-trust laws and tax laws in South Africa.
On the question of rumors that Chinese will impose their business practices and lifestyle on South Africans, Lai King told eNCA TV that Chinese come to the country to do [business] deals, not to change the government or impose religious beliefs. "They don't set up military bases. They come here to do business," he said.