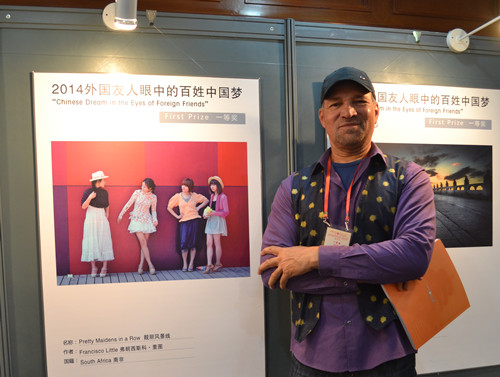 Francisco Little stands beside his award-winning image Pretty Maidens in a Row (Photo by Liu Jian)
For South African photojournalist Francisco Little, the dream for Chinese women lies in taking charge of their own lives. This outlook is best captured by his picture of four young Chinese women at Beijing's 798 Art Zone taken while he was visiting there in 2013.
Little's image, titled Pretty Maidens in a Row, went on to win the coveted first prize at the "Chinese Dream in the Eyes of Foreign Friends Photo Contest 2014."
"The girls were preparing for a modeling shoot at the 798 Art Zone while I was visiting, and the different angles of their bodies as they shifted into poses against the colorful background made me stop to take this shot," Little recalled. "It seemed as if the three girls on the right were discussing the girl on the left and there was a dynamic tension to the moment."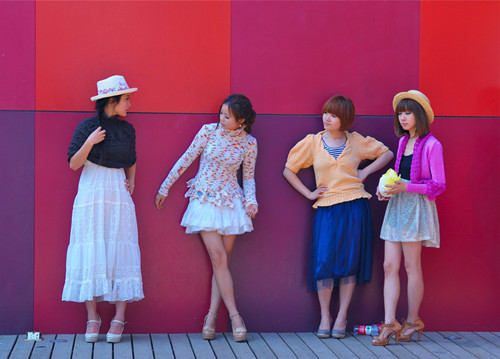 Francisco Little's image Pretty Maidens in a Row wins first prize at the photo competition (Photo by Francisco Little)
"To me, the image symbolizes the emancipation of women and I see the dream of those young girls is to be free, to take charge of their own lives and to express themselves creatively," he told ChinAfrica. 
Pretty Maidens in a Row stands out among a total of over 4,000 photos submitted by participants from 58 countries. After a lengthy period of evaluation from a team of judges, first, second and third prizes were selected from the top 300 images.
"It's not just a simple photo. Something is happening between the four girls. To me, it's like a novel which makes you imagine a lot of things," said Liu Sijin, a Ph.D candidate in her second year and one of the photo competition's organizing staff. 
In addition, one of Little's other images Eyes on You also won the Award of Excellence in this year's competition.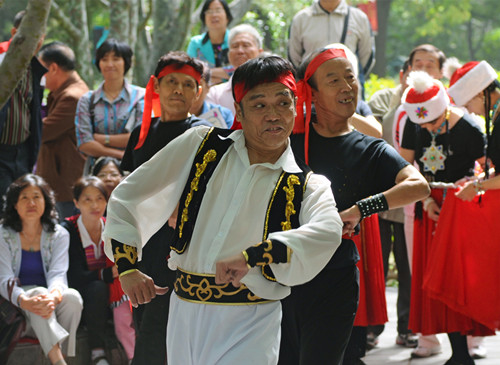 Francisco Little's image Eyes on You wins the Award of Excellence at the photo competition (Photo by Francisco Little)
Expat photographers received their awards from the Beijing People's Association for Friendship with Foreign Countries at a ceremony held in mid-December, 2014. The winning images are displayed at a photo exhibition in the city and feature in a coffee table book.
The photo contest was first organized in 2009, and since then it has already seen six successive editions. Little, Africa Managing Editor of ChinAfrica, the leading monthly magazine on Sino-African affairs published by Beijing Review, also received the second and third prize at this photo contest in 2013 and 2012 respectively.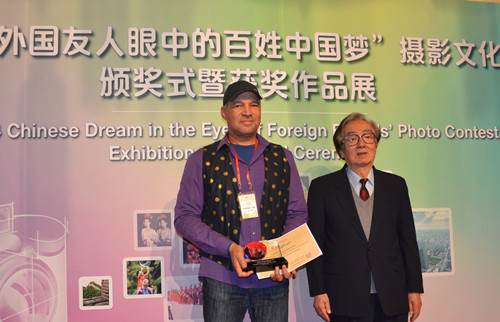 Francisco Little receives the first prize award at the "Chinese Dream in the Eyes of Foreign Friends Photo Contest 2014" (Photo by Liu Jian)