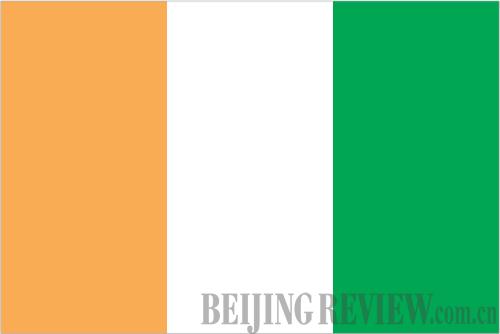 National flag of Cote d'ivoire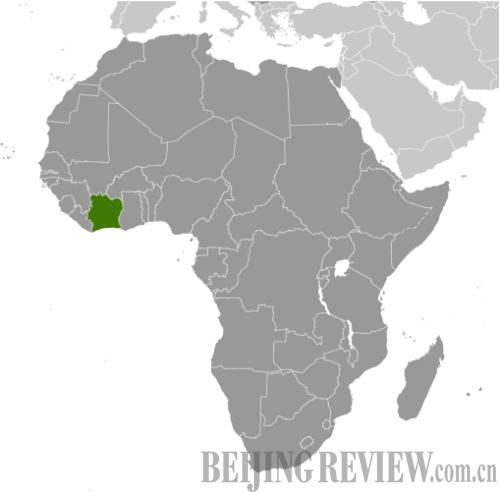 Location of Cote d'ivoire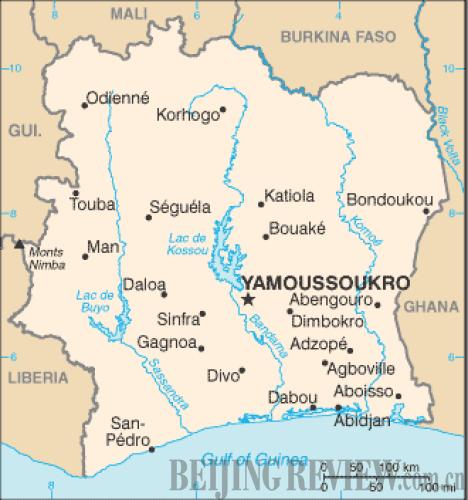 Map of Cote d'ivoire
A nation of diverse terrain with forests in the south, hills in the west and savannah plains in the north, the Republic of Côte d'Ivoire is inhabited by more than 60 ethnic groups. These ethnic groups generally fall into five main divisions: Akan, Krou, Southern Mande, Northern Mande and Senoufo/Lobi.  
Côte d'Ivoire gained independence from France on August 7, 1960 and its first president, Félix Houphouët-Boigny, presided over the country until his death in 1993. Since the end of Houphouët-Boigny's era, the nation experienced two coups d'etat in 1999 and 2001, and a civil war in 2002. However, recent elections and a political agreement between the new government and the rebels have brought a return to peace.
Since 1983, the official capital of Côte d'Ivoire has been Yamoussoukro, hometown of its first president. Abidjan, however, remains the economic capital and administrative center. Meanwhile, most countries maintain their embassies in Abidjan.
Currently, the country's economy is largely market-based and relies heavily on agriculture, which provides employment for roughly 68 percent of the population, with smallholder cash crop production being the dominant form. As the world's largest exporter of cocoa, 45 percent of the nation's total export volume comes from this sector. Since 2006, oil and gas have become more crucial to the economy than cocoa. Statistics from IMF showed that oil and refined products contributed $1.3 billion to the nation's revenue in 2006, while cocoa contributed $1 billion during the same period.    
The largest economy in the West African Economic and Monetary Union (WAEMU), the nation has significant economic influence over the rest of the region. Although it is a medium-sized country, Côte d'Ivoire accounts for some 36 percent of GDP in WAEMU and plays a critical role in transit trade for landlocked neighboring countries given its ideal location in Africa for transportation by sea and land.
Bilateral political relations
The People's Republic of China and the Republic of Côte d'Ivoire established diplomatic relations on March 2, 1983. Since then, the relationship between the two countries has witnessed favorable development.
In April 2002, President Laurent Gbagbo of Cote d'Ivoire visited China and met with then Chinese President Jiang Zemin. Both the presidents were supportive of pushing forward the bilateral relations. President Gbagbo also expressed his thanks for China's support to Côte d'Ivoire in the areas of agriculture, water resources, energy, machinery, pharmaceuticals and mining.
The friendship between the two countries was further strengthened when Foreign Minister of Côte d'Ivoire Youssouf Bakayoko visited China in May 2007. In March 2008, the foreign ministers of the two countries sent congratulatory messages to each other for the 25th anniversary of the establishment of diplomatic relations. 
Trade relations
Bilateral trade relations have been developing smoothly with fruitful cooperation in many areas, especially since the two countries signed trade agreements in 1984 and in 1996. The China Investment and Development Center for Trade Promotion entered into operation in Abidjan in December 1997. Since then, the two countries have run joint ventures in Côte d'Ivoire to set up the Hua-Ke Vehicles Co. Ltd., the Agro-machinery Assembling Co. Ltd. and a pharmaceutical factory. And the two countries have also cooperated on a project for petroleum prospecting in Côte d'Ivoire.
Cultural exchange
Cultural exchanges between the two countries are being pushed forward through cooperation in tertiary education and scientific research.
 China began accepting students from Côte d'Ivoire to pursue higher education in China in 1985. In 2008, there were 25 students from Côte d'Ivoire studying in China on full scholarships offered by the Chinese Government and one Chinese teaching in Côte d'Ivoire.
With investment from China, the Agro-food processing and Fresh-keeping Center of the Poly-technical Institute at Yamoussoukroboigny was set up in May 1999.
Capital: Yamoussoukro
President: Laurent Koudou Gbagbo
Population: 20.6 million (July 2009)
Climate: Tropical in the south and arid in the north
Language: French (official), 60 native dialects with Dioula the most widely spoken
Religion: Muslim 38.6 percent, Christian 32.8 percent, indigenous 11.9 percent, no religion 16.7 percent
Currency: West African CFA franc (XOF) $1=485.84 XOF
Independence: August 7, 1960