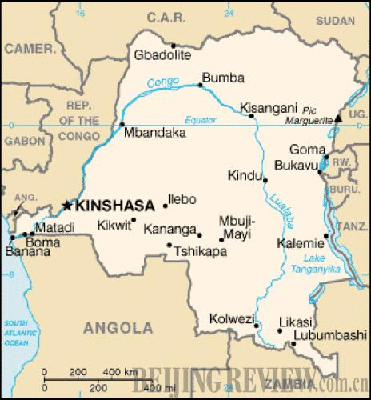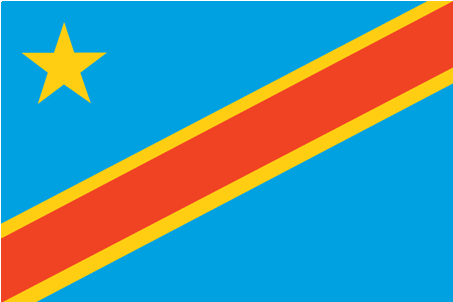 Straddling the equator and receiving the most frequent thunderstorms in the world, the Democratic Republic of Congo is in many senses a land of physical extremes. From its lowest point at the Atlantic Ocean, to its highest point at Pic Marguerite on Mont Ngaliema (5,110 meters), the nation, often referred to as DRC, presents an environment that is as harsh as it is laden with the ingredients for prosperity.
The Congo River and its tributaries dominate the landscape and are a crucial ingredient for the nation's economy and transportation. This delta region contains the second largest rainforest in the world. The low-lying basin slopes down to a short stretch of coastline (37 km) and is surrounded by plateaus in the south and southwest, mountainous terraces in the west and grasslands in the north. High glacial mountains are found in the far east and to cap it all off, two active volcanoes erupted in 2002.
DRC is considered to hold immense economic potential, with an abundance of mineral wealth (including copper, cobalt, diamonds, gold and petroleum) and enough hydropower potential to supply itself and most neighboring countries.
But the economic reality is far from matching the potential. DRC has the lowest per-capita GDP in the world ($174). This is largely due to an ongoing conflict since 1996, which has led to an estimated 5.4 million deaths. The conflict is just one chapter in an often-tragic history, which includes the brutal reign by King Leopold II of Belgium from 1885-1908, when he controlled the territory as his private property. His exploitation of "Congo Free State" is considered one of the most violent episodes in colonial history.
Despite this troubled past, there are some signs of improvement for DRC. In 2005, two thirds of the eligible population turned out to vote in a referendum that resulted in the approval of a new constitution. And on July 30, 2006, the country held its first multi-party elections in 40 years, with a voter turnout of 70 percent. After a second round of elections three months later, incumbent President Joseph Kabila immerged victorious and was installed for a five-year-term.
Despite the nation's mineral wealth, agriculture remains the main contributor to the Congolese economy, accounting for 42.5 percent of its GDP in 2007. Food crops include cassava, plantains, maize, groundnuts and rice. Cash crops include coffee, palm oil, rubber, cotton, sugar, tea and cocoa.
DRC, known as Zaire between 1971 and 1997, should not be confused with its neighbor, the Republic of Congo. 
Bilateral political relations 
When modern day DRC gained independence in 1960, Chinese late Premier Zhou Enlai was quick to send a letter to the new government, offering congratulations on behalf of China. The two nations began complete diplomatic relations in 1972 and since then there have been many high level visits between the two. President Joseph Kabila visited China in 2003 and 2005, when he met with Chinese Premier Wen Jiabao in the Great Hall of the People. He also visited Beijing for the 2008 Olympics when he met with President Hu Jintao.
China and DRC have also held high-level talks on military cooperation and China contributes troops to the UN peacekeeping mission in the country.
Trade relations  
China and DRC signed trade agreements in 1973 and 1988.
In April 2008, the Kabila government signed a contract with Chinese companies China Railway Group Ltd. and Sinohydro Corp. for a total of $9 billion. The deal involves those companies investing in and completing projects in mining and infrastructure development in DRC. 
Cultural exchange 
The two countries signed a cultural agreement in 1980 and another agreement for cooperation in higher education and scientific research in 1989. China has also been sending medical staff to DRC since 1993.
Capital: Kinshasa
Population: 68 million
Climate: It is hot and humid in the river basin, and cool and dry in the southern highlands. The rainy season lasts from October to May south of the Equator and from April to November north of the equator. Along the equator, rainfall is regular throughout the year. Average annual rainfall in Kinshasa is 1,422 mm
Languages: French (official), Lingala, Kingwana (a dialect of Kiswahili or Swahili), Kikongo, Tshiluba
Religion: 70 percent Christian (mainly Catholic), most non-Christians follow traditional or syncretic beliefs
Currency: Congolese Franc (CDF) $1 = 890 CDF
President: Joseph Kabili
Independence: June 30, 1960 (from Belgium)