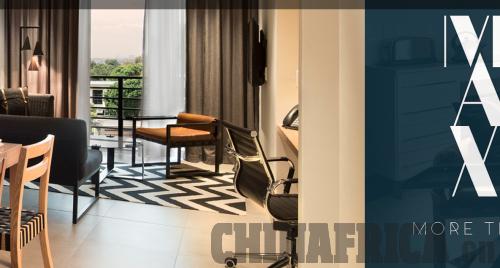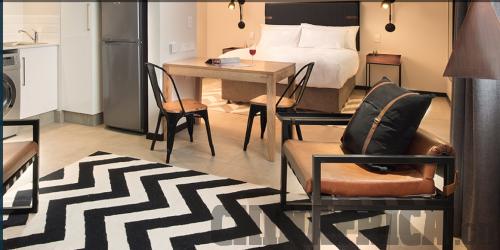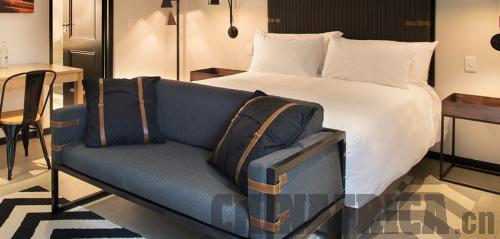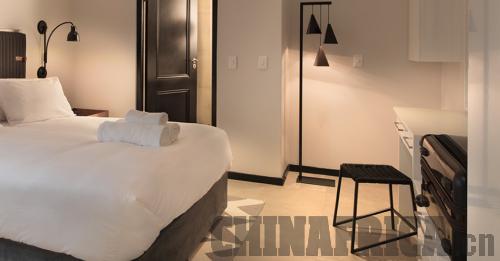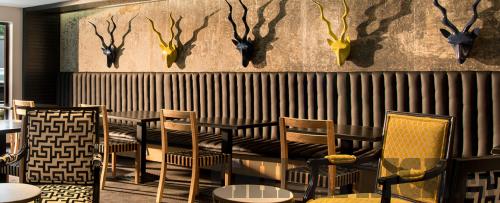 Photos: maxapartments.co.za
READAM is a new generation property development company operating in South Africa's wealthiest business triangle of Rosebank, Sandton and Melrose in Johannesburg in Gauteng. Newcomers Ajay and Priya Chathley, a husband and wife team in their 30s, have created a development portfolio worth R200 million in just six years – targeting, financing and rebuilding classy new commercial centers in prime, in-demand locations.
Their latest development is named MAX, the company's first evolution into the luxury, business apartment-hotel market. MAX consists of 28 elegant, self-contained chic apartments with basement parking. Also on the ground floor is a reception, library, meeting room (which can also be booked for the residents' business meetings), and the Seconds Lounge, a licensed restaurant primarily catering for breakfasts and light daily meals.
"We are providing for a specific need for business travelers and family visitors to the area," says Ajay. In terms of budgets, MAX offers 4-star serviced apartments with the highest standards of accommodation and facilities. Max is surrounded by some of the best of Johannesburg restaurants, pubs and entertainment venues as well as high-end shopping malls. 
"Our working title was 'To The Max;' we shortened it as brand name," says Priya. "The Philosophy of MAX is More Than. More Than is a way of living. It is doing more, being more, so that you can expect more. The philosophy is in every touch point the customer experiences with the MAX brand.
MAX is small. It has 28 apartments, a newcomer surrounded by many hotel brands established in the international market, representing thousands of rooms at the 4- and 5-star level. 
That same attention to detail and value-for-money service is applied to the tariff for the 4-star rated MAX apartments today. The three-bedroom garden apartments cost about $240. The executive two-bedroom apartments are around $220. The standard two-bedroom apartments are approximately $160 and the executive studios are around $135. The normal studio is $115.
Corporate leasing is an important sector of their market too, where companies take accommodation for their senior staff and executives who are in town for short-to-mid-term stays. Leasing houses for them used to be the answer. Today, with companies seeking better value and high-security alternatives, the MAX solution is tailor-made and ideally located.
Sharing MAX's services with those of neighboring businesses matches the contemporary method used by 5-star hotels in major urban centers worldwide. Both Rosebank and Sandton are linked to extensive malls which offer travelers a variety of options for dining and entertainment. MAX's location a few minutes' drive midway between both centers, and flanked along Rivonia Road by scores of cafes and clubs, takes the same Europe-style approach to sharing its business with its community.
Ajay says, "Integration is the keynote of all our designs. All of our developments so far are located in what we call the 'Golden Triangle' – bounded by Sandton, Melrose Arch and Rosebank, and including Wanderers club with its world famous golf and cricket facilities. Travelers coming here for a week or more for business, conferences, shopping or entertainment want to make the most of their work and leisure time. 
"Our guests can be delivered to their choice of these venues and picked up when they're ready to return. In terms of convenience and security our market research indicates this is a priority for visitors to Johannesburg and Sandton. We are also a few minutes' drive from the Sandton City and Rosebank Gautrain stations. Guests can call MAX reception when they need to be picked up and meet our driver at street level." 
Smooth connectivity by road and rail along Gauteng's crowded business axis is imperative. Connectivity online is even more important for business delegates linking to their head offices around the world and MAX offers free Wi-Fi throughout.
Priya manages the style, décor and furnishings of all the READAM projects, sourcing her designs and materials from leading international designers throughout South Africa.